O2 roaming rates to rise by up to 140%
Travellers check...
---
O2 will increase its roaming costs for making calls outside the EU by nearly 140 per cent this month.
The network is set to raise the cost of making calls in the US and Canada from 90p a minute to £1.10, while increasing the charge to receive calls from 39p to 90p.
Sending a text from across the pond will set punters back 40p rather than the current 25p.
There have been similar price hikes for using blowers in other parts of the world too, with up to a 30p increase per minute for making calls and up to a 40p climb for receiving them. In some places, customers will pay £1.50 a minute to phone home.
At least O2 has kept its roaming data charges the same. Then again, at £6 per megabyte, prices are already ridiculously high.
Here are the figures in all their glory: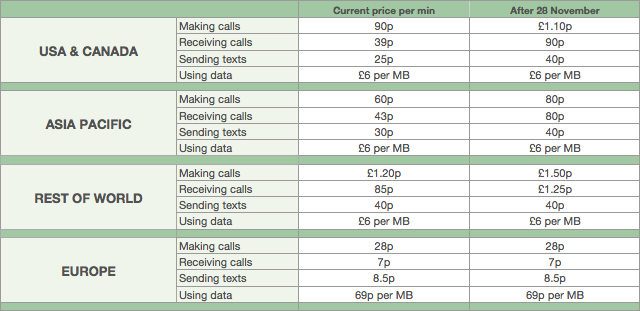 The company denies the changes have anything to do with being forced to lower its European roaming charges in July and insists this merely brings its pricing in line with competitors.
While you're at it, O2, why don't you drop the price of all your current mobile deals and data plans for the very same reason? After the constant barrage of bad publicity recently, including network failure and excessive Nexus 4 tariffs, perhaps that's exactly what is needed to quell a growing feeling of discontent among those on the network.
O2's roaming charges increase on 28 November. ®