Virgin Media first showed a TiVo app for iDevices off in June 2011. Almost 18 months later, the cable telly company may at long last be gearing up to release the software.
The app, which works with Virgin's TiVo-based set-top box was originally due to go live in September 2011 but with that deadline missed, the company kept tight-lipped about the promised app until March 2012, when it said the software would ship the following September - a year after the launch.
September 2012 came round with no more sign of the Virgin TiVo program's appearance in the iTunes App Store than September 2011 did. However, Virgin did promise the software, now dubbed Virgin TV Anywhere and accompanied by a website offering similar functionality, would go live "soon".
When might that be? We can't say but, but a 'pssst' call today from a fellow claiming to have been testing the app and the site suggests they are finally close to release. "Load testing, fail-over testing - it's all been done now," the mole said after joining a conference call that recently linked two or three dozen Virgin staff who've been testing the app at home.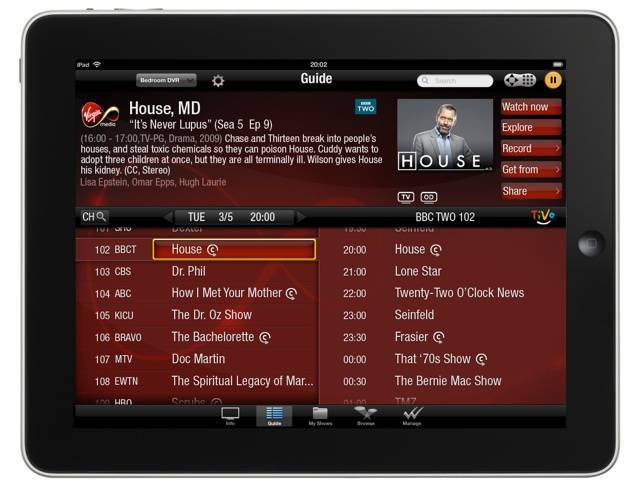 At this point, he claims, Virgin has a working app that it's currently make small cosmetic tweaks to. Sounds to us like it's ready to rock.
The app allows iPad owners to see what's recorded on their TiVo box, set up future recordings and control the device remotely. Alas it doesn't appear as if the software will stream content from the box to the iPad's screen - as the app accompanying the View21 set-top box does - though the website will present live channels, we're told.
Virgin today tacitly said software and site are ready for viewing. While there's no formal date in diary for their launch, it will be taking place "definitely before Christmas". ®