Weapons of mass discretion
The fact that cigarettes kill is something of which we're now reminded on every packet. But the notion was obviously far from the mind of Bond baddie Ernst Stavro Blofeld, though, when he allowed 007 "one last fag" in 1967's You Only Live Twice.

Sean Connery in You Only Live Twice. Credit: Twentieth Century Fox
Of course, the ciggie in question was equipped with a rocket-propelled bullet, aiding Bond's escape and allowing him to continue puffing custom-made Morlands like they were going out of fashion. They were. But while cigarettes equipped with a fatal dose of shrapnel seem implausible, their deployment in the real-world of espionage is well documented.
In 1954, the Russians sent a spy named Nikolai Khokhlov to Germany with the task of assassination. Khokhlov subsequently defected and revealed the weapon he had been sent to do the dirty with: a fatal pack of ciggies, fitted to fire cyanide-dipped darts instead of mini-rockets. Impressive either way, if you ask me.

Credit: Gehlhausen
As concealed weapons go, though, the ciggie-gun merely scratches the surface. We've seen firepower hidden in gloves, pipes, lipstick, umbrellas and mobile phones. But that shouldn't come as a surprise, really. If manufacturers can produce lethal pistols the size of a human thumb, the potential is there for weapons concealed in practically anything.
Techie timepiece
No 007 film would be complete without a top-notch timepiece brimming with features unlikely to be found in an average Omega. Bond's watches have wowed us with built-in garrottes, Geiger counters and laser-cutting tools, but the timepiece that really takes our fancy packs a magnetic field bullet deflector. Yep, who needs kevlar vests with one of these badboys on your wrist?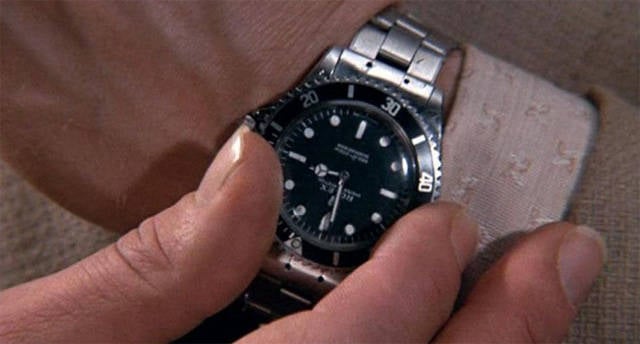 Rolex in Live and Let Die. Credit: Twentieth Century Fox
Unfortunately, that tech will indeed have to remain in the realm of fantasy. A magnetic deflector that stops bullets would not only have to be mammoth in size, but to create electromagnetic fields of such magnitude, a person would need some sort of nuclear reactor strapped to their wrist.
The concept was put through grilling tests on a James Bond special episode of Mythbusters, in which the team claimed the maximum strength of magnetism that can be squeezed into such a watch is roughly 575 Gauss. This had no affect whatsoever on the bullet's trajectory.
In fact, to even slightly affect its direction, they had to not only use rare neodymium-iron-boron magnets, but had to set up 13 of them, totalling over 60,000 Gauss. That would obviously be a struggle to carry, let alone strap to one's wrist, and yet it still wouldn't have prevented Bond taking a round to the chest, even then.
Scientists have found ways to stop atom-sized bullets in their path, but to upscale the device to stop full size ammunition is bordering silly.
The coil-gun - a concept born in the realm of sci-fi - accelerates a magnetic projectiles with a series of coiled electromagnetic-induction wires. While this has yet to be replicated in real life, researchers at the University of Texas have built one that works in reverse apparently, stopping atomic particles in their path after being fired through at 1,118mph (499.79m/s), which is faster than the general speed of a pistol round.
Either way you look at it, you're never going to find yourself protected from bullets with a watch. That doesn't stop us strapping-up with chronometers that push beyond simple time-keeping activities, though. And while I have yet to see one, we could always fit a magnet strong enough to unzip a dress at least. Roger Moore eat your heart out.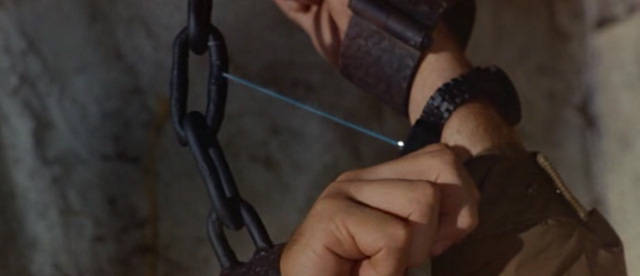 Watch in Never Say Never Again. Credit: MGM
There are plenty of spy-like watches with built-in cameras, sound recorders and 3G mobile capabilities these days, but that appears to be where the tech stops ticking. Lasers strong enough to cut through material may have shrunk in size too, but their deployment in a watch remains a bit farfetched. Which is a tad unfortunate for spies who find themselves padlocked securely into duffel bags with diminishing oxygen.