Gears of awe
While no vehicle could fulfill my childhood driver aspirations quite like a Chitty Chitty Bang Bang, I certainly wouldn't complain if you handed me the keys to one of James Bond's saucy speedsters, either. Sorry Porsche, but there is a substitute.
Bulletproof shields, revolving licence plates, oil slick generators, machine guns and ejector seats were a cruel reminder to Adam West that his substandard budget Batmobile was lagging.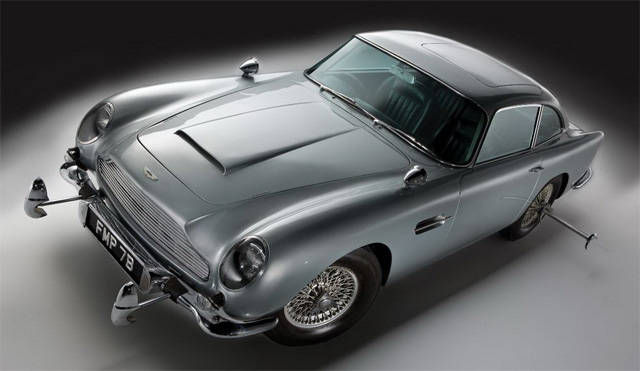 Aston Martin DB5
Self-destruct mechanisms, submarine transformation, remote smartphone control and the daddy of all supercool imaginery tech - invisibility - has pretty much kept the Bond car in pole position over the years, even topping the charts regularly in "cool gadget" surveys.
While Connery's Aston Martin DB5 was auctioned off complete with various Q modifications, some of the aforementioned features of Bond vehicles such as submarine mode, smartphone control and invisibility, are surely harder to implement. Or are they?
Those seeking a Spy Who Loved Me-like aquatic Lotus Esprit should cast their eyes on the sQuba from Rinspeed, a concept car that did the rounds at motorshows back in 2008. While the lucrative "toy for rich people" has yet to enter commercial production, it's nice to know the fusion between vehicles is possible.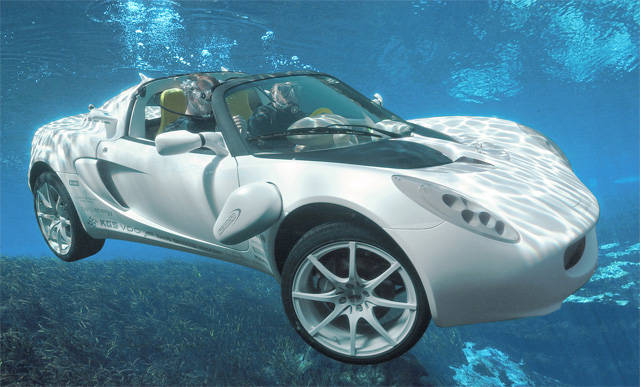 Rinspeed sQuba
Meanwhile, Google is working towards driverless cars and the notion of smartphone control there shouldn't be too surprising, particularly to other tech-minded punters. In fact, the only thing here that feels implausible is the invisibility feature.
After all, we saw Mercedes cloak a car back in March using LEDs that displayed imagery from a DSLR pointing at it. The military has various cloaking tech up its sleeve too, particularly with infrared invisibility from BEA Systems. Systems like the one used by Mercedes, however, are more expensive than the vehicle and add considerable weight once mounted - making them something that only the military can afford to dabble with on tanks... for now.
Smarter smarties
We've seen mobile communication gadgets in Bond since the days of From Russia With Love, but while the introduction of real-life mobile phones in the the 1990s meant Bond's were practically buyable, MI5's mobile range has always packed more punch than your average smartphone.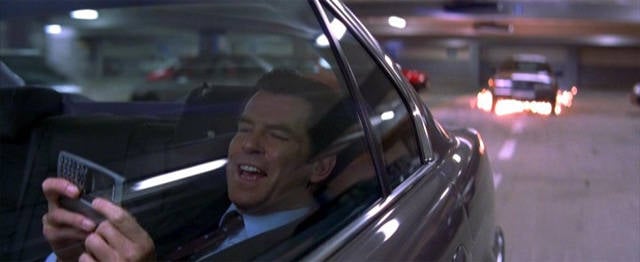 Pierce Brosnan in Tomorrow Never Dies. Credit: MGM
While Ericsson's product placement in Tomorrow Never Dies was shamefully apparent, the phone itself - in the film, of course - was quite a gem, featuring a fingerprint reader, lock-pick tool and even a dangerous stun-gun. Brings a whole new meaning to taking out a contract with a phone, eh?
The idea of stun-gun phones has already been visited commercially, in the US, naturally. The Yellow Jacket iPhone 4/4S case - which narrowly made its fundraising goal on money-please website Indiegogo - packs a 650k-volt taser. Deadlier, K95 stun-guns disguised as Nokias have been found more recently in the UK, though - models which are easily available online and overseas. Shocking.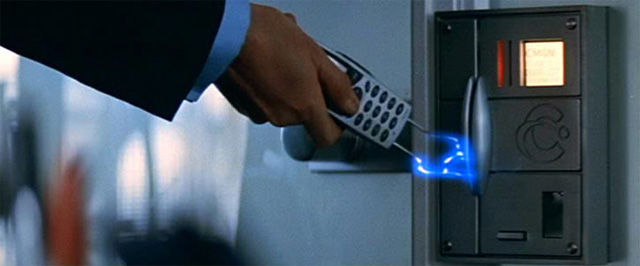 Ericsson phone in Tomorrow Never Dies. Credit: MGM
Meanwhile, fingerprint readers are already on commercial smartphones, such as the Motorola Atrix. Plenty of gadgets we'd still struggle to modify for mobile remain, but at this scintillating pace of tech development, we're never too far behind, either.
In fact, most of Bond's high-tech kit is practically there in one form or another, with mini air supplies, tracking gadgets and stealth communication kits commercially available if punters have the wonga to front it.
Exciting, dangerous, tempting - Bond gets the gear, no doubt. In the real world, though, you'd have to have significant reason to own most of this stuff and in the vast majority of cases you'd be better off without the hardware... trust me. ®