Google has pushed version 23 of its Chrome web browser to the Stable release channel, bringing GPU-accelerated video playback to the Windows platform and giving users finer control over what data that sites can collect about their browsing habits.
Chrome has been able to use the GPU to accelerate web-page rendering for some time, but so far it has only worked with typical HTML, CSS, and graphics elements. With Chrome 23 on Windows, GPU acceleration has been extended to include full-motion video from sites such as YouTube.
According to a blog post announcing the new Chrome release, the goal of accelerating video playback is not so much about improving performance as it is about lowering power consumption.
Because dedicated GPUs use much less power than CPUs, offloading video to the graphics chip can extend battery life on mobile devices considerably – by as much as 25 per cent, in the Chocolate Factory's own tests.
Unfortunately, GPU-enhanced playback only works on Windows for now, though it should make its way to Linux and OS X in future releases as the code stabilizes, and Google reps have told El Reg that it will arrive for Chrome OS devices "very soon."
New in Chrome 23 for all platforms, on the other hand, is a feature that makes it easier for users to control web-content permissions on a site-by-site basis.
Blocking content such as cookies, JavaScript, images, plugins, and pop-ups was possible in earlier versions of Chrome, but it required users to navigate the deeper recesses of the browser's preferences panels and maintain content blacklists by hand.
With the new Chrome release, users need only click on the website icon in the URL bar to see a single, detailed permissions panel showing preferences for that particular site.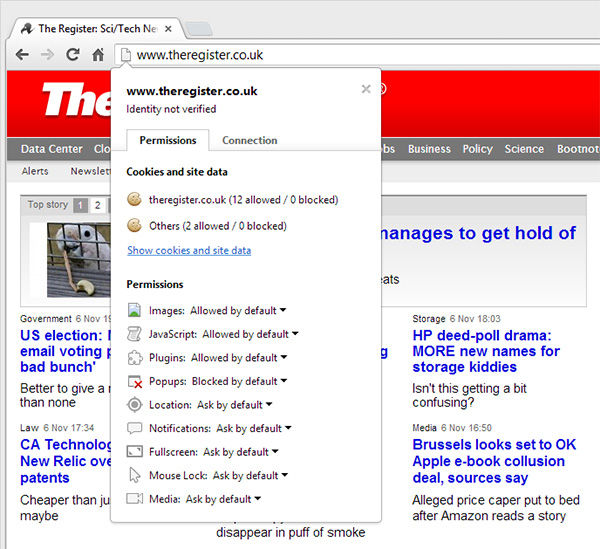 Chrome 23 makes it easy to ensure you're getting all the content you can handle
In addition, Chrome 23 adds support for the "Do Not Track" (DNT) signal, making good on Google's earlier promise to include the feature and to have its own ad networks honor DNT in accordance with DAA principles.
Because of Chrome's auto-update feature, most users of the browser should receive the new version in the coming days without taking any action – and in fact, users of the Beta and Developer releases have had access to the new features for some time. Stable channel users who want to be sure they've got the update can also check "About Google Chrome" from their Settings menu.
Meanwhile, development of Google's browser continues apace. Simultaneous with the new Stable release, the Developer channel has been updated with a new build of the forthcoming version of the browser, Chrome 24, which should arrive in the Stable channel in six weeks. ®
Similar topics