A twig may not be your idea of a great tool, but a cockatoo has worked out how to use it to move a cashew nut, getting scientists from the University of Oxford, Vienna and the Max Planck Institute for Ornithology in Germany fairly excited.
The complex tool innovation displayed by a Goffin's cockatoo (Cacatua goffiniana) called Figaro emerged when one of Figaro's favourite pebbles fell outside his cage.
Dr Alice Auersperg of the University of Vienna, who led the study, reported what Figaro did next:
After some unsuccessful attempts to reach it with his claw, he fetched a small stick and started fishing for his toy.
Figaro got even more inventive when they swapped the stone for a cashew nut:
To investigate this further we later placed a nut where the pebble had been and started to film. To our astonishment he did not go on searching for a stick but started biting a large splinter out of the aviary beam. He cut it when it was just the appropriate size and shape to serve as a raking tool to obtain the nut.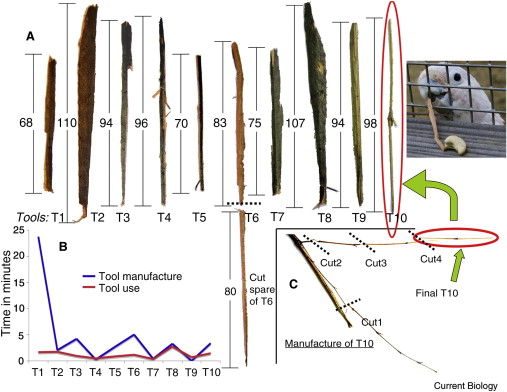 Figaro and his sticks. Credit: Current Biology
Empowered with his twigs and splinters, Figaro was able to collect the nut every time.
Tests with other cockatoos in the same situation proved that Figaro was an exceptionally gifted in his rake-making: a cockatoo called Pippin did not try to use tools, but a third, Heidi, did attempt to use a bamboo stick, but less successfully.
Certain species of birds are known for using tools but cockatoos are not among them. It is "exceedingly rare" for non-tool using species to start using tools, the paper's abstract states, but birds with well- developed spatial intelligence may be able to innovate from scratch.
The findings of the study have implications for our understanding of tool use in animals, and cites the origins of tool usage in general intelligence rather than learned behaviours coming from evolutionarily specific problems.
Professor Alex Kacelnik of Oxford University, another author of the study, said: "Figaro shows us that, even when they are not habitual tool-users, members of a species that are curious, good problem-solvers, and large-brained, can sculpt tools out of a shapeless source material to fulfil a novel need." ®
Spontaneous innovation in tool manufacture and use in a Goffin's cockatoo was published in the November issue of Current Biology