Photos In a marvelously precise bit of radar aiming, NASA astro-boffins captured a set of images of a near-Earth asteroid as it passed by our lonely planet late last month at distances of between 9 and 10 million kilometers (5.6 and 6.2 million miles).
The images, released on Monday, show asteroid 2007 PA8 to be what NASA describes as "an elongated, irregularly shaped object ... with ridges and perhaps craters." NASA's data also indicates that the chunk of space rock is slowly rotating "roughly once every three to four days."
The radar images were captured by a 70m antenna in Goldstone, California, one of three such installations that make up NASA's Deep Space Network (DSN), the other two being the Madrid Deep Space Communications Complex (MDSCC) in Spain and the Canberra Deep Space Communication Complex (CDSCC) in Australia.
Goldstone didn't require the help of those two other antennas, positioned about 120 degrees of the Earth's diameter apart to provide overlapping coverage of deep space. The California antenna captured its images of 207 PA8 all by its lonesome.
Asteroid 2007 PA8 came even closer to Earth after its photo shoot. As of 8:42 Pacific Time on Monday, NASA says, it was 6.5 million kilometers (4 million miles) away – that's about 17 times the distance between the Earth and the Moon.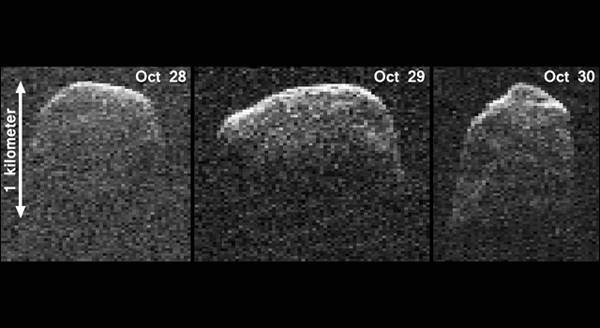 In NASA's images, Asteroid 2007 PA8 rotates to show us its good side – your pick as to which one that might be
Fear not, however. According to NASA, this flyby is the closest that 2007 PA8 will come near Earth for at least the next 200 years. Should it threaten us after that, odds are that asteroid-deflection technology will have advanced beyond shooting paintballs at intruders, as was recently suggested by an MIT grad student as the winning entry in the United Nation's Move An Asteroid 2012 Competition.
Astro-boffins are getting better at tracking and spotting near-Earth asteroids. Just this June, for example, Australian astronomers picked up 2012 LZ1, which passed within 5.3 million kilometers (3.3 million miles). That asteroid, however, is a mere 500 meters in diameter. Asteroid 2007 PA8, on the other hand, is a noticeably chubbier 1.6 kilometers (1 mile) wide.
By comparison, the asteroid that is thought to have struck what's now the Yucatán peninsula around 65 million years ago, putting an end to the dinosaurs' rule over the Earth, is alternately thought to have had a diameter of 4 to 6 kilometers (2.5 to 3.7 miles), 10 kilometers (6 miles), or "about the size of the Isle of Wight."
Some scientists, however, believe the dino-eraser actually was about 40 kilometers (25 miles) wide, and struck not Yucatán, but instead the appropriately named Shiva basin off India's western coast.
That comparison aside, being struck by any sizeable chunk of space rock – even 2007 PA8's comparatively paltry 1.6 kilometer girth – would, of course, thoroughly ruin your day. ®
Sponsored: Ransomware has gone nuclear