This article is more than 1 year old
EXTREMELY RARE never-seen-alive WHALES found (briefly) alive
Not extinct after all. Probably, anyway
A pair of rare whales that boffins thought might be extinct has washed up on a New Zealand beach.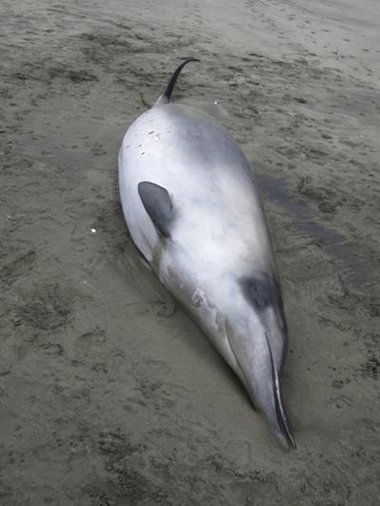 A Grays beaked, not a spade-toothed beaked, whale
Marine biologists previously only knew the spade-toothed beaked whale (Mesoplodon traversii) from a few old bones: but then, not one but two of the rare cetaceans, a mother and her male calf, got stranded.
Even when they did show up, researchers first thought that they were the more common Gray's beaked whales, but DNA samples showed that the mammal was indeed the rare spade-toothed breed.
"This is the first time this species - a whale over five meters in length - has ever been seen as a complete specimen, and we were lucky enough to find two of them," said Rochelle Constantine of the University of Auckland.
"Up until now, all we have known about the spade-toothed beaked whale was from three partial skulls collected from New Zealand and Chile over a 140-year period. It is remarkable that we know almost nothing about such a large mammal."
The two whales were discovered in 2010 when they live-stranded and then died on Opape Beach. The New Zealand Department of Conservation was called to the scene, but it wasn't until DNA analysis was done in the lab that researchers knew what they had.
"We were very surprised to find that they were spade-toothed beaked whales," Constantine said. "We ran the samples a few times to make sure before we told everyone."
Scientists are unsure why a whale like this hasn't been spotted before.
"It may be that they are simply an offshore species that lives and dies in the deep ocean waters and only rarely wash ashore," Constantine sid. "New Zealand is surrounded by massive oceans. There is a lot of marine life that remains unknown to us."
The discovery is detailed in Current Biology. ®