Surface more profitable than iPad
Microsoft's margins greater than Apple's
Microsoft's Windows RT-based Surface tablet - designed to compete with the full sized Apple iPad - has a larger profit margin than its rival, a teardown analysis has revealed.
The Surface, with its minimum 32GB of Flash storage and optional Touch Cover, has a bill of materials (BoM) that totals $271. Chuck in an additional $13 to cover manufacturing costs, and the whole thing costs $284 to make, market watcher iHS iSuppli has claimed.
Over $100 of the BoM is pumped into the Surface's 10.6in, 1366 x 768 touchscreen display, with memory priced at $34 and the device's Nvidi Tegra 3 processor a mere $21.50. Check out the full BoM table below.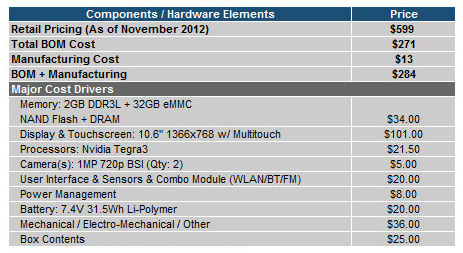 Source: IHS iSuppli
With a retail price of £479/$599, the Surface generates both hardware and manufacturing profits that are higher than the low-end iPad, in margin percentages at least. Microsoft could price the product at $499 and still stay ahead, iSuppli reckons.
Even without the optional Touch Cover unit - which costs Microsoft roughly $17 a pop - profit margins remain greater on a per-unit basis.
When stripping down a 16GB iPad 3, iSupply concluded it had a total BoM price of roughly $347.55.
The caveat in all this is, of course, that BoM figures don't take into account the cost of the core software and promoting the product.
Separately, teardown service iFixit.com concludes in its own Surface X-ray that the Redmond firm's fondleslabs are easier to repair. ®