Ten... Apple iPad Mini alternatives
Picks for the fruit-phobic fondleslab fancier
---
Product Round-up Before you rush out and buy a device that the late Steve Jobs said wouldn't, couldn't and shouldn't exist - well, kind of - you may care to consider some of the alternatives on offer, assuming that is you can't quite make the nut and afford a full-size iPad.
Until Windows RT fondleslabs percolate down to those of us empty of pocket and desirous of the light in weight and small of screen, this means something running Android though with one notable exception.
The Blackberry PlayBook may be best known for dragging its maker RIM to the very edge of the financial abyss but you can pick one up for loose change, making it one of very few gadgets to be more appealing 18 months after its launch than when new.
What we have here then are a selection of small tablets, a few really big phones and a couple of media-consumption devices that may be tied down tighter than a Tory MP in an S&M parlour but are nonetheless not without their attractive qualities for the less technically proficient.
Read El Reg's iPad Mini review
Acer A110

The first real competition the Nexus 7 has faced, the Acer has one drawback: the display. With only 1024 x 768 pixels, the end result is a picture that's nothing like as crisp as the Nexus 7's 1280 x 800 panel, though its pixel density figure of 170ppi still beats the Mini. Nor is it as colourful or as robust when it comes to viewing angles. For e-reading and web browsing the screen is, if not great, good enough.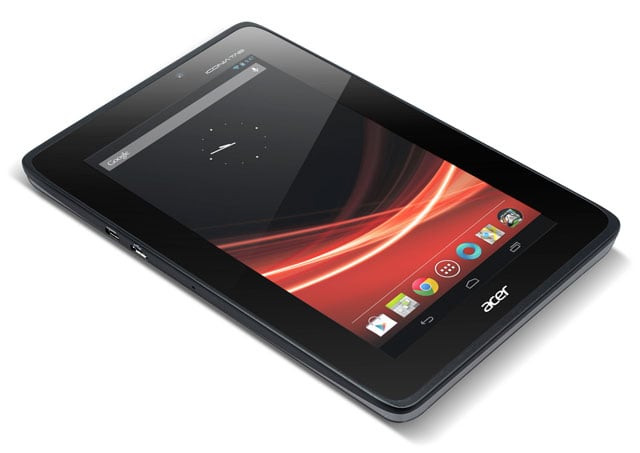 The A110 is a tad heavier and thicker too, and has a smaller battery which results in even less operating time between charges than the numbers suggest - about five hours of video playback at best.
One the flip side, you get a Micro SD card slot and a mini HDMI port which make it significantly more flexible than the Nexus, and the same Nvidia Tegra 3 underpinnings. With the arrival of the 32GB Nexus 7, the £180 8GB Acer is now too pricey to keep its spurs, but if it slips closer to the £150 mark for Christmas it is certainly worth considering.
Rating 70%
Price £180
Info Acer
Amazon Kindle Fire HD

Going head-to-head with Barnes & Noble Nook HD, the new Kindle is less a tablet than a handheld shopfront for Amazon. Fair play to Amazon, you do get a decent spec for your £159, including a 1280 x 800 IPS LCD display with a polarising filter, a two excellent speakers and dual-band Wi-Fi. All that's missing is storage expansion, though if 16GB sounds like too little space the 32GB model is yours for £199.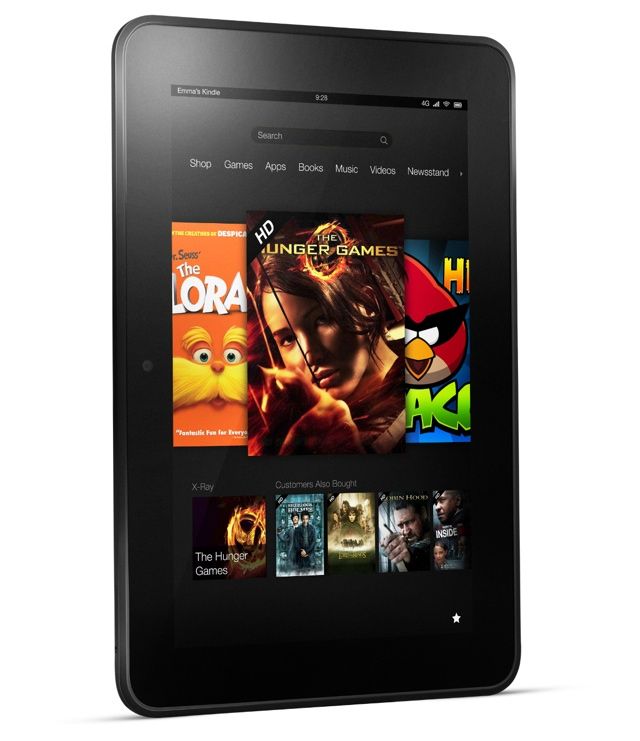 Bigger and heavier than the Nook, the Kindle also naturally demands you sup with Amazon with a very short spoon, which could cause concerns for those worried about bankrolling corporate tax jiggery-pokery and sudden remote content removal. Where the Kindle does score over the Nook is with its vast music store and the inclusion of a webcam. Though it runs a heavily modified version of Android, remember there is no access to the Play Store, no Google apps and no GPS.
Rating 75%
Price £159 (16GB), £199 (32GB)
Info Amazon