The genetic button that could turn a WOMAN into a CHIMPANZEE
Or a man, of course. Just doing our bit for equality
---
Certain regulatory mechanisms in genes are all that's stopping the human race from turning into monkeys, boffins have found.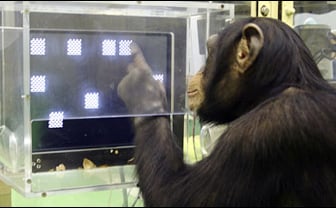 Humans share over 90 per cent of their DNA with primates, but mankind has somewhat different biology and behaviour. To get that difference from the same genetic soup, the activity of the genes has to change across different species.
Yoav Gilad, associate professor of human genetics at the University of Chicago, took eight people, eight chimpanzees and eight rhesus monkeys to figure out how that activity changes in each species.
He found that up to 40 per cent of the differences are caused by regulatory mechanisms determine whether and how a gene's recipe for protein is transcribed to the RNA molecule that then carries that recipe on to the sites in cells where proteins are manufactured.
Figuring out what makes a gene turn an animal into a monkey and what makes it turn the same DNA into a person could help to understand genetic variations, which could help in turn to figure out genetic susceptibility to certain diseases people get that monkeys can avoid.
Gilad also found that the epigenetics process know as histone modification differs in the three species. Histone marks during the gene transcription indicate that the process has been prevented or modified.
He presented his results yesterday to a meeting of the American Society of Human Genetics, whose press announcement is here in pdf. ®