Hitachi offers to cram 300TB of hardness into your array tray
Fast flash memory lovin' for your virty storage boxes
---
Hitachi Data Systems has announced a flash storage tray for Virtual Storage Platform (VSP) arrays, utilising its own in-house developed flash controller.
It's called Hitachi Accelerated Flash (HAF) and uses non-volatile memory with two bits per cell. The controller is a multi-core chip managing flash memory dies rather than solid-state drives.
Roberto Basilio, a HDS veep for infrastructure platforms product management, claimed the silicon extends the raw endurance of the multi-level-cell (MLC) flash and makes it perform like single-level-cell (SLC) flash, which is faster than MLC: "The result is the lowest cost-per-bit of any enterprise MLC flash solution on the market today."
The flash tray holds between 6.4TB and 76.8TB of data, and up to four of them can be housed in an 8U rack chassis, providing up to 307.2TB of flash capacity to turbo-charge the VSP's IO. It's fully compatible with the VSP's dynamic tiering so hot data is automatically moved to the tray and cold data stored in the VSP's disks.
All the array's other functions, such as external virtualisation, continue as before. The controller provides inline compression, and HDS vice-president Hu Yoshida said this "reduces physical writes on the flash memory by up to 94 per cent".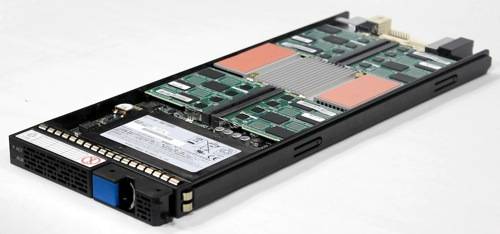 The Hitachi Accelerated Flash tray
A September blog post by Yoshida discusses the design of this controller.
HDS claims that, compared to 400GB MLC SSDs, the flash tray's hardware has four times the performance, requires less power, has smaller space requirements, and costs less per bit. Separately we've learnt that HAF will be addressed as a memory layer by the array controller. Users can still put SSDs inside the array's standard drive enclosures if they wish.
We're led to expect 800,000 random read IOPS from a flash tray-augmented VSP array. The HAF's memory endurance should last a decade.
Basilio suggested the new flash module is good for online transaction databases, enterprise resource planning software, financial data, metadata and indexing applications. Translation: "Use this in your VSP array and don't bother buying a Violin Memory, Pure Storage or any other vendor's all-flash array."
HDS said there are more announcements coming as part of its flash strategy, which will span "servers, storage and appliances to enable compute acceleration, caching and high-performance storage media use cases".
The HAF is a flash tier in the VSP, not a cache, and Hitachi is implying that it out-performs SSDs, MLC ones and possibly SLC ones, that are used in storage arrays, such as EMC's VMAX. That remains to be seen.
This gear is roughly akin to a Violin Memory array turned into a flash tier inside disk array. We might well imagine that Hitachi could next take this flash module out of the VSP and turn it into a networked all-flash array. It can use the existing 8U chassis for this if it wishes, and would need to give the box operating system software to make it function as a networked storage resource - something like a VSP OS Lite, for instance.
No prices were supplied for HAF, but Yoshida tells us it is "within four times the price of high-performance SAS HDDs" and no doubt cheaper than Violin's kit. ®