Lenovo ships first US-designed server
Still built in China, though
---
Sino-American server maker Lenovo Group established its Enterprise Product Group last week to design servers for itself and for OEM partners like EMC, and now the first product designed by EPG – the ThinkServer TD330. No, it is not a funky box aimed at hyperscale data centers, but a low-cost Xeon E5 tower server aimed at SMBs.
The ThinkServer TD330 is a tower box aimed at the customers who need a pretty serious machine rather than some rinky dink box based on Celeron or Pentium processors. The box complements two rack servers that Lenovo rolled out at the end of August that are also aimed at SMBs.
But those who like to rack up boxes in a data closet or data center to support larger workloads than a modest two-socket tower box. You could, of course, turn TD330s on their sides and rack them up if you really wanted to do that.
The TD330 is based on Intel's "Patsburg" C600 chipset and offers two processor sockets. Lenovo is supporting the lower-cost and lower-performing Xeon E5-2400 processors inside of this box rather than the full-on Xeon E5-2600, which has more bandwidth on the chip and to the I/O subsystems than the Xeon E5-2400 does.
But the E5-2400s cost less and offer better bang for the buck for modest workloads, and hence this is the chip that gets plunked into the TD330 server. The machine has a dozen memory slots and supports sticks ranging in size from 2GB to 16GB, in either normal 1.5 volt or lower-powered 1.35 volt variants. Memory can run at up to 1.33GHz and scales up to 192GB in the machine.
The server has two 5.25-inch media bays for DVDs, CDs, or removable disks, and the 5U tower chassis (well, it is 5U when you tip it on its side) has room for either eight 2.5-inch SAS drives, with a maximum of 7.2TB of capacity, or eight 3.5-inch SAS or SATA drives, topping out at 4.8TB or 24TB, respectively.
The machine supports ThinkServer 300 RAID 5 and ThinkServer 500 RAID 1 and 10 adapters, with an upgrade key to add RAID 5 support to the ThinkServer 500 adapter. The top-end ThinkServer 700 series adapter has 500MB of cache and supports every kind of RAID but the one that kills bugs dead. If you want flash, Lenovo has 200GB and 400GB MLC SATA drives in 2.5-inch form factors available.
The TD330 has three PCI-Express 2 peripheral slots, (one x16 and two x8), plus a single PCI slot for very old peripheral cards. Clearly, Lenovo didn't think the SMBs that would but this machine would need faster and higher bandwidth PCI-Express 3.0 peripheral cards, which is probably a good bet at most SMBs.
Ditto for Ethernet controllers, which only run at Gigabit speeds rather than 10 Gigabit speeds. The system has two Gigabit Ethernet ports, with an optional quad-port adapter available. The box has redundant 800 watt power supplies.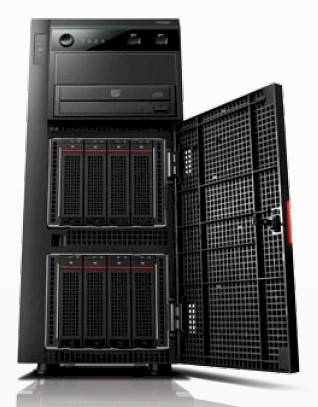 The ThinkServer TD330 tower server
As for operating systems, Lenovo is laying back a bit here, supporting Microsoft's Windows Server 2008 and its R2 and R2 SP1 kickers as well as the probably more-important Small Business Server 2011. If you like Linux, Red Hat Enterprise Linux 5.7 and 6.1 are supported, as is SUSE Linux Enterprise Server 11 SP1 and SP2. VMware's vSphere 5.0 and Microsoft's Hyper-V R1 and R2 SP1 are supported as hypervisors on the box.
The one thing that the TD330 server is not is Made in America. A spokesperson for Lenovo tells El Reg that the TD330 may be designed in Research Triangle Park, North Carolina, but like so much IT gear these days, it is made in China.
The TD330 is available now, and has a base price of $929. Precise configuration data is not available, and Lenovo has not yet added this box to its online store.
The TD330 joins two ThinkServer rack machines announced two months ago, the RD330 and RD430. The RD330 is a 1U rack server that is a two-socketeer like the TD330, and is similarly based on the Xeon E5-2400 processors.
The RD330 has room for four 3.5-inch drives or six 2.5-inch drives and is otherwise very similar to the TD330 in terms of memory, LAN, and disk controller options and software support. It does, however, offer PCI-Express 3.0 slots, in this case one x8 and two x16 slots.
The RD430 is a fatter 2U box also based on the Xeon E5-2400 processors that has more disk and peripheral card expansion. The RD430 supports eight, twelve, or sixteen drive bays, depending on the enclosures and disk sizes you pick.
It also gives customers the option of mixing PCI-Express 1.0 and 3.0 or 2.0 and 3.0, depending on their needs. You get three slots with the former and five slots for the latter with a mix of x8 and x16 lane sizes. ®