'You don't need a licence for one. At least not yet'
Ironically, then, for all the suggestion we might all become merely numbers in the machine, it's Henry's computers skills - and the ready availability of computer hardware: "64K memory, disk drive, storage for 120,000 characters. And you'll need a modem," the sales assistant tells him - that allows our hero to unpick the web of conspiracy.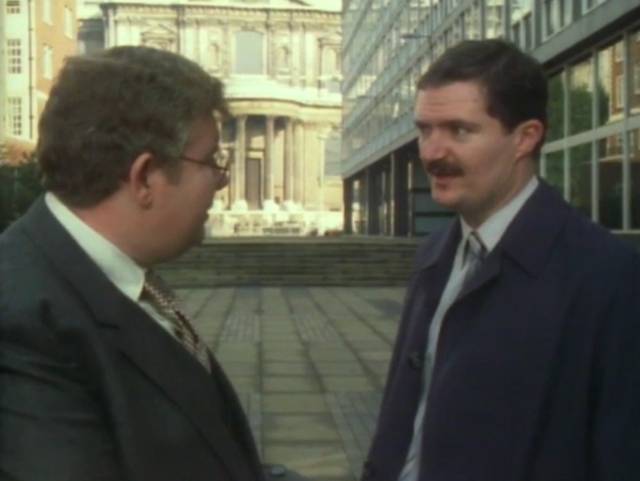 Henry talks crime with City of London Fraud Squad DI Richardson (Jim Broadbent)
Technology, Hutchinson was clearly saying, was as much a force for personal empowerment as an bureaucratic tool. Ayn Rand would have been proud.
Computers can act against you. "Just think of it as an extra couple of million PC Plods walking up the street very slowly and thinking even slower," says a Police Computer operator in episode two.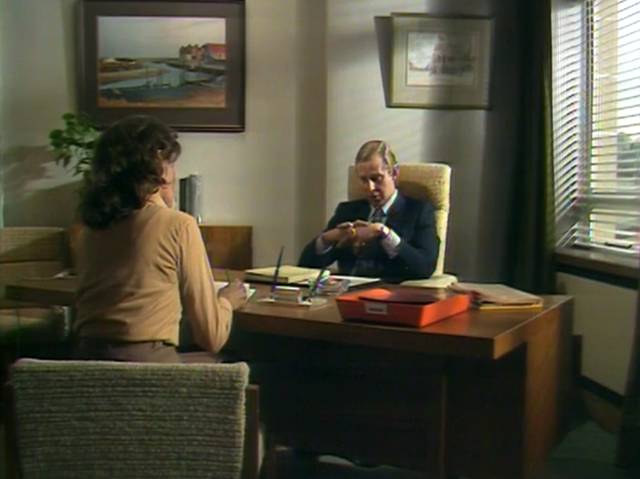 The computerless office. No typewriter, either
But then for exposing the nefarious they can't be beaten: "A few years ago [information] would have stayed in the file gathering dust. Now you put it in the magic machine and sometimes it comes up with connections you never dreamed of."
Computers for bad, computers for good. Yet gadgets do little to hinder Henry - or anyone else, for that matter. It's the human connections that drive the conspiracy. French fraudster Louis Vacheron hopes The Power will get him off the hook - instead, the danger posed to others by his cocked up crime gets him killed by the same mechanism, which is also employed to use the Vice Squad to scare Henry from getting too nosey. The killers, robotic though they seem, are human.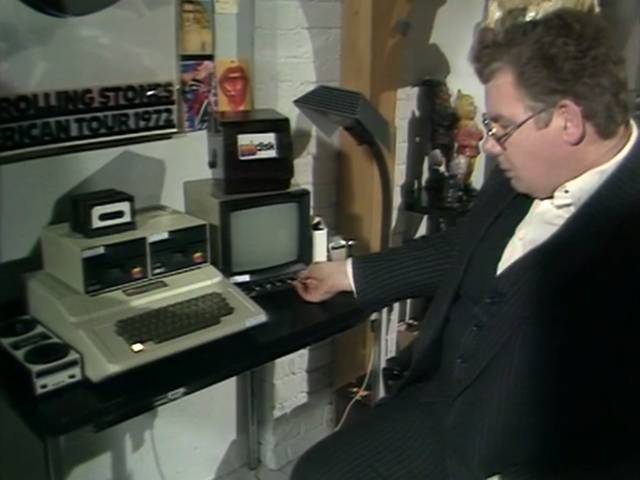 Friend or foe?
It's Le Pouvoir which is the anonymous power, not the computer, able to suborn not only the police but the security services to prevent a bigger crime from succeeding.
The show's one flaw, perhaps, is that a nebulous power makes for a less compelling 'villain' - there is no éminence grise using power and influence, murder and mayhem. Charles Bridgnorth, a colourful, larger-than-life intelligence operative who prefigures 1985's Edge of Darkness' grey area operating CIA man Darius Jedburg - Edge of Darkness was overseen, like Bird of Prey by veteran BBC drama producer Michael Wearing - here fills the villain's shows rather more fully than slimy Eurocrat Hugo Jardine, but he's no closer to the centre of the web.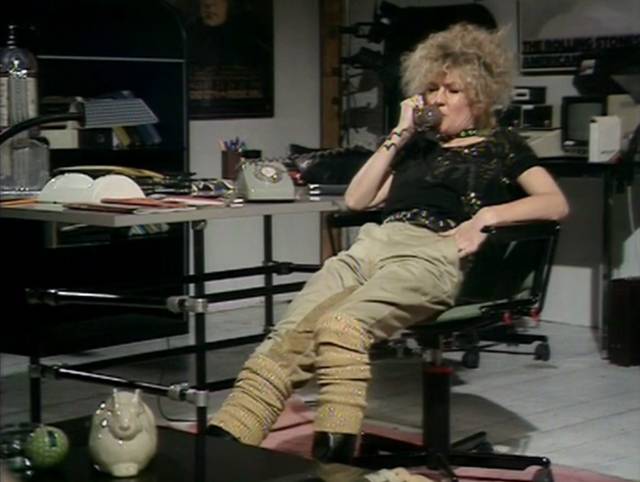 1980s kit
They're just cogs in the works, both repaying favours owed to others, though hoping to make a bob or two in the process of a scheme to monopolise the then yet-to-be-built Channel Tunnel. The year before Bird of Prey was shown, Margaret Thatcher and François Mitterrand agreed to back a solid but a privately funded attempt to create the 'chunnel'.
Still, you can't argue with the verisimilitude. Director Michael Rolfe sent a youthful Jim Broadbent - long before he achieved National Treasure status - to spend time with the City of London Fraud Squad, the better to inform his performance as DI Richardson, and he comes across as a believable copper. Richardson also gets the best lines.
Henry "And why do we keep meeting in pubs?"
Richardson "I like pubs. And they sell beer."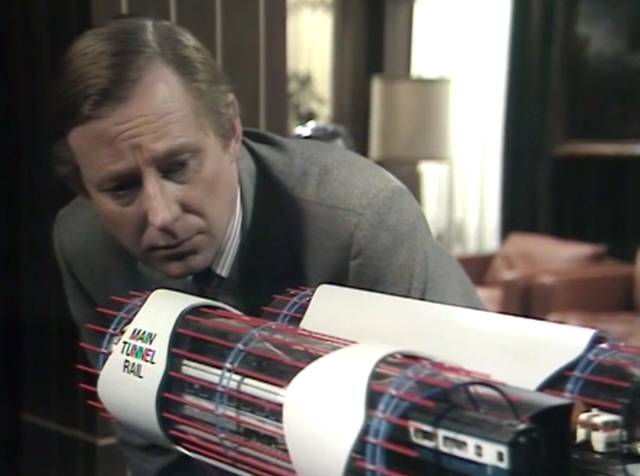 Civil servant Tony Hendersley (Jeremy Child) learns what it's all about
Richard Griffiths is no less effective as the put-upon civil servant Henry Jay, and it's a strong cast all round. Only Ann Pennington's investigative journalist who also runs a "commercial intelligence consultancy" stretches credibility, though as much because of her OTT 1980s wardrobe and mode of speech, Tiger, as anything else.
But Bird of Prey is never less than utterly entertaining and pulls you in, even now, through Hutchinson's plotting and splendid dialogue - "It's the 80s; death by violence counts as natural causes" - musician Dave Greenslade's 8-bit era synthy soundtrack and Griffiths portrayal of Henry. He is the innocent boffin splendidly isolated from the real world who is then forced to empower himself to protect his life and loves. He's an archetypal nerd hero who uses brains - and, occasionally, IT - not brawn to win through. ®
Sponsored: Practical tips for Office 365 tenant-to-tenant migration