This article is more than 1 year old
Snake-fondling blonde nude punts Polish coffins
Catholic church condemns candid casket calendar
NSFW The Polish tentacle of the Catholic church is less than impressed with a local coffin-making outfit which punts its wares by draping disrobed women across its caskets.
The 2013 Lindner calendar (NSFW) features a series of provocative images, including Miss March - presumably called Eve, and who's apparently been beamed onto the surface of some sun-baked alien world complete with an albino Burmese python and Golden Delicious apple: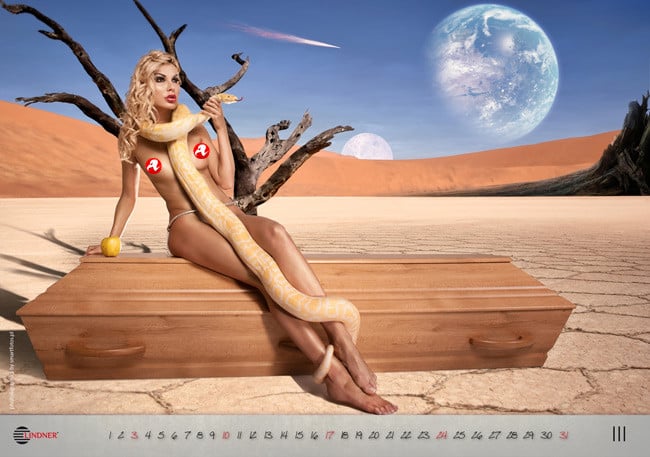 According to Reuters, the Catholic church has deemed the calendar "inappropriate". A spokesman insisted that "human death should be treated with solemnity and not mixed up with sex".
Zbigniew Lindner, owner of Lindner, disagreed. He said: "My son had the idea of creating the company's calendar... so that we could show something half-serious, colourful, beautiful: the beauty of Polish girls and the beauty of our coffins.
"We wanted to show that a coffin isn't a religious symbol. It's a product," he said. "Why are people afraid of coffins and not of business suits, cosmetics or jewellery?"
The calendar is on sale for 30zł a pop (roughly £5.80, or $9.30). All the proceeds go to the charity "Ptaszarnia" - a project "aimed at children and young people with difficult or limited access to culture [which] is a form of equalizing educational opportunities".
If you order now, as well as getting 12 months of coffin-based nudity to hang on your wall, you'll get a free coffin keyring and quite likely excommunication thrown in for good measure. ®
Bootnote
There's a short video here (NSFW), showing how the calendar was put together.