Prime Minister on Twitter: Me and Obama, we're like THAT
You mind if I call you Barack? Oh, OK. Sorry
---
Pic British Prime Minister David Cameron couldn't resist tweeting a cheesy picture of him apparently having a telephone conversation with the re-elected US president Barack Obama on Thursday afternoon.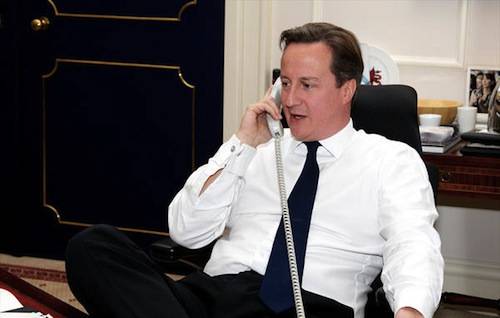 So, Barry-o, tell me about this Reddit thing. Where does one read it? How does one write it?
The frankly embarrassing image was also retweeted by the official Number 10 Twitter account - just in case any Britons out there failed to see DC's original message, which read:
Just phoned @BarackObama to congratulate him. He spoke of the UK/US 'outstanding partnership'.
Indeed, the UK has long since moved on from that cosy "special relationship" of the Reagan/Thatcher and Clinton/Blair years.
But our hapless PM, who a few hours earlier suffered an odd grilling from none other than cuddly Phillip Schofield during an uncomfortable daytime telly encounter on ITV1's This Morning, decided that Obama's comment was worthy of a tweet accompanied by a pathetic photograph. ®