Boffins investigating a find of ancient stone blades over 70 thousand years old argue that it was possession of advanced ranged weapons - and the organisation to make and use them - which allowed humanity to defeat its early rivals and spread out to conquer the world.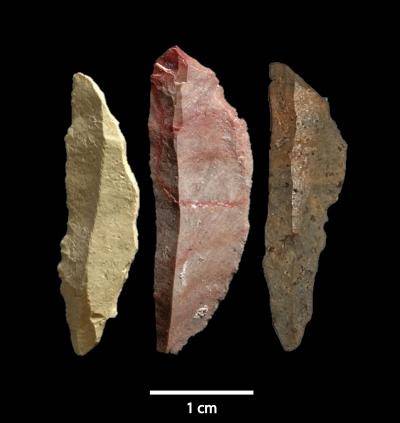 Don't bring a knife to a spear fight
The small stone microlith blades in question were found at a site named Pinnacle Point in Mossel Bay, South Africa. They were complicated to make, with the stone having to be heat treated with fire so that it would flake properly and could then be fashioned to give a sharp edge down one side and a blunt back on the other. This allowed them to be glued onto a wooden shaft, creating a deadly yet lightweight spear.
The investigating boffins believe that such spears would have been hurled by their cunning human creators using atlatls - spear-thrower devices which extend the reach of the human arm and permit a javelin-style weapon to be flung with much greater force than is possible with the unaided limb. It's thought that our great rivals for control of planet Earth - the Neanderthals - could only make relatively heavy spearheads unsuitable for use at any distance.
"When Africans left Africa and entered Neanderthal territory they had projectiles with greater killing reach," explains Professor Curtis Marean, an expert in stone weapons who was instrumental in the research.
"These early moderns probably also had higher levels of pro-social (hyper-cooperative) behavior. These two traits were a knockout punch. Combine them, as modern humans did and still do, and no prey or competitor is safe," he adds. "This probably laid the foundation for the expansion out of Africa of modern humans and the extinction of many prey as well as our sister species such as Neanderthals."
Marean and his colleagues' findings have upset various applecarts in the world of paleoanthropology, where some contend that use of microlithic technology may have died out and reappeared from time to time rather than being maintained as a continual species trait as Marean et al suggest. Some, too, think that the human-v-Neanderthal struggle was far less one-sided.
The group's paper has thus made it into hefty boffinry mag Nature, where subscribers can read it here. There's also a free digest for laymen courtesy of Arizona State uni here.
The paper may also cause some disturbance in the debate on gun control in various nations, particularly the USA where this is a heated dispute. There would now seem to be some scientific evidence that an affinity for powerful, lethal ranged weapons is a vital part of what makes us human.
Obviously others would contend that we need to suppress our primitive basic urges for our own good: and weaponry nerds may point out that various successful human warrior/hunter groups of the past have either not bothered much with ranged weapons at all, or have favoured comparatively simple manually-hurled spear type weapons of the sort derided by Marean and his colleagues. (Roman legionaries, for instance, albeit their cunning bendy javelins made much use of metals).
We're sure our commentard community, who have previously shown themselves to have much to say on such subjects, will get stuck into the debate in the thread below. ®