Chinese storage interloper Huawei has shattered standards body SPEC's sfs2008 Network File System (NFS) benchmark by scoring 3,064,602 IOPS. That's roughly twice as fast as rival Avere and NetApp 6240 clusters.
Read about the Avere and NetApp results here. The Huawei result came from a 24-node cluster of OceanStore N8500 nodes, using 144 X 400GB SSDs in 12 Dorado enclosures and 576 X 2TB SATA disk drives in 24 enclosures. The total exported capacity was 533.3TB and the overall response time was 1.39msecs.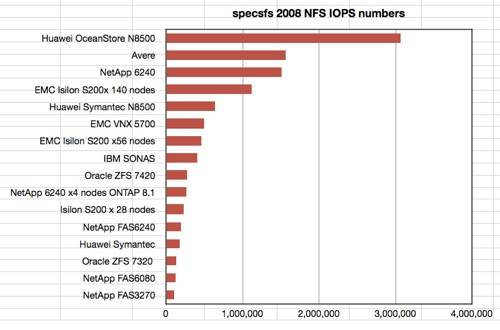 Click to enlarge.
It's obvious that the SSDs contributed performance and the disk drives capacity - this is the new filer array storage paradigm.
This is also Huawei's third NFS benchmark-topping score, and it has been achieved after the Huawei-Symantec joint venture ended. It seems indisputable that the OceanStore N8500 has a damned good performance and Avere, EMC, NetApp and others have a lot of catching up to do if they want to regain top NFS benchmark bragging rights. ®