Nokia's extras
Nokia surrendered exclusivity on Nokia Maps to Microsoft, meaning all Windows Phone 8 devices, including those from Nokia's rivals, can now bundle it. Nokia Maps is a superb vector-based package that works offline – it's far and away the best mapping software that's bundled with a phone today.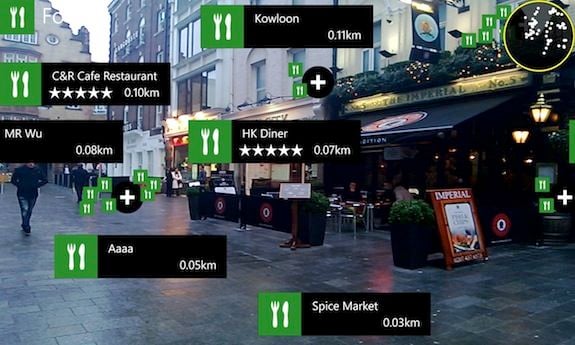 On this street in the West End are four adjacent food spots: three restaurants and a pub. CityLens failed to identify any of them, but highlighted restaurants that aren't visible (or even close by) instead.
What's exclusive to the Lumias is Nokia Drive, giving turn-by-turn navigation, and other location- -based software. One of these is City Lens, an augmented reality overlay providing local information, which at first looks rather gimmicky. But it's improving rapidly, and it doesn't have to be used in the dorky point-and-peer camera mode.
Nokia Transport was one of the unexpected highlights of the Lumia 800 – nothing else gets you the bus or train time where you are quite as quickly or conveniently. It wasn't bundled with my device, but I expect it will be available for a download imminently.
Nokia also has its own umbrella wrapper app around the music player, and Microsoft has another one, the Xbox app. Nokia's wrapper leads you to a free, non-interactive curated music streaming service, which is better than it sounds. Indeed, I'm obliged to report that for their easy listening selection, French band Air chose The Velvet Underground's Venus In Furs, and Heroin. Different strokes, I suppose. Microsoft's Xbox wrapper leads you to Podcasts and its Zune store.
Either way, it's the same music player underneath, and both wrapper apps rather get in the way. From the music player you can pin albums and playlists to the home screen. But if you click directly onto the playlist, you can't navigate back into the music player – only back to the home screen, I discovered.
The photo viewer is much as it was before, but some of the integration is starting to pay off. You can 'share' not just to email accounts and social networks, but to registered apps such as WordPress, Evernote and the new 'Rooms' feature. The what, you ask?
Well, Rooms is one of the few new userland features to make it into WP8. It's slightly daunting – you invite contacts to chat, view a shared calendar, and share notes and photos in a private area. Instant groupware – just like NetMeeting! The help documentation doesn't explain what invitees will see – or whether they'll be able to use it on a non-WP8 device. It's all quite mysterious and a little unnerving. Fear of spamming your friends may put most people off experimenting. Incidentally, if you're on a data consumption conscious tariff, Nokia also includes Counters to keep tabs on usage.