Odds and sods
Even though the Lumia 920 has no micro SD slot, it does at least come with a generous 32GB, which is just as well if you're likely to be shooting a lot of HD video. Also, Microsoft is bundling 7GB of cloud storage here and SkyDrive is steadily improving. One outstanding feature is the ability to capture work in progress on other machines, down to a snapshot level. This is more promise than reality right now, but it's a strong reason for having a look at Windows Phone.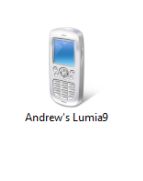 Do they still make phones like this?
Windows 7 mates with new Windows Phone
The story with PC and Mac connectivity continues to be a mixed one. There's a Windows 8 Metro app – which is not much use if you're on Windows 7. Zune has been deprecated but the device still syncs music with Windows 7's Media Player and appears as a browseable device in Windows 7 Device Centre.
On the Mac, the Windows 7 Phone Connector has been rebranded the Windows Phone app, but it's currently a catastrophe. At first I got two successful syncs with my MacBook Pro running Lion 10.8.2, but then a dozen subsequent crashes, each inviting me to send a bug report. It just doesn't work.
And WP's contacts management is as opaque as ever – you can only sync with a Live/Hotmail account, although Nokia appears to be working on bringing its PC Suite into the modern era. Here's hoping it can make contacts manageable again.
As for app compatibility, the story is mostly good. There's no Skype – there's an all-new version with a new UI and multitasking imminent. And the Amazon Kindle app only works once. It appears to be fine, but won't start once it's been 'tombstoned'. I found third-party apps that took ages to restore from their tombstoned state are working in two or three seconds.
There's still a few too many splash screens in the user experience, though, and given the speed of the phone the animations are beginning to be unnecessary and tiresome. Yet for all that, you'll have a hard time telling a WP7.8 device and a WP8 device apart. Windows Phone now has much improved multi-tasking and better driver support but without the performance or power consumption penalties we'd feared.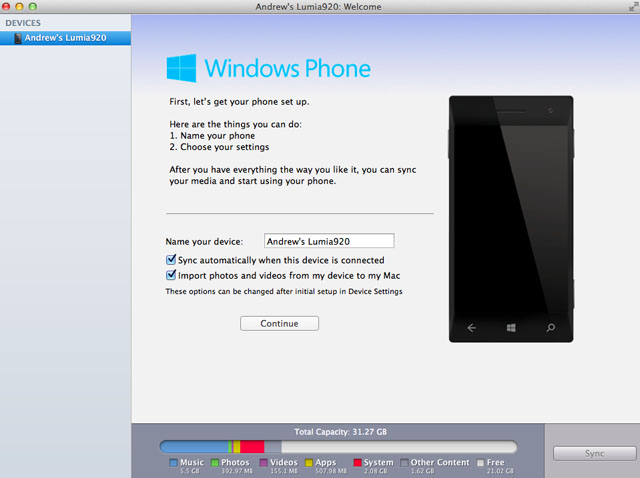 Your mileage may vary but you'll be lucky to get beyond this screen with the Windows Phone 3.0 sync app on a Mac
Indeed, Microsoft has done a magnificent job of making an epic overhaul of the Windows Phone plumbing work smoothly. The three pieces of bedrock on which WP7.x was based have been completely replaced in WP8. The CE kernel has been replaced with the NT kernel, out goes the Compact .NET framework and Silverlight/XNA are deprecated, but retained for compatibility. Native code is in, which means you can write in C#, in C++ for games, and the system gains DirectX support. In fact it now supports a ton of useful middleware frameworks.