Sound or vision?
In practical terms, the Lumia 920 offers the best cameraphone by miles. Good battery life, a great screen and zippy performance make up the key attractions. All this comes at a cost however, and the main one is the slab-like weight and ungainly finish. I got used to it pretty quickly. There are people who buy Volvos simply because they're built like tanks and to hell with the looks. But it might be a deterrent to anyone not drawn to the camera.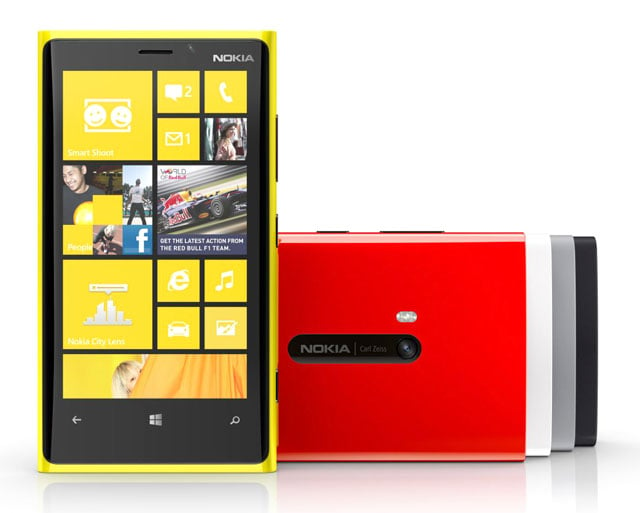 Design matters: forget the colours, what about the shape?
One surprise nobody expected two months ago is that Nokia's designers have been comprehensively out-thought and outplayed by HTC. HTC is offering smaller Windows 8 phones (the 8s and 8x) which look and feel better, are really tactile, and even have richer and more subtle colours. HTC's models might induce that "5pm panic", on account of their smaller batteries; the Lumia 920 won't. But they perform most things just as well, focusing on music rather than imaging.
What a pity so much good work has gone into these Lumias – particularly the 920's camera – that may go un-noticed because the design is so utilitarian and boxy. Nokia is making much better products than it did before the Windows alliance, and it's getting R&D out of the labs into products quicker. However, design is now the weakest link. Still, if you're tempted to have a look at a Lumia 920 then your carrier options will be limited. It's only available in the UK through the EE family of brands: EE 4G, T-Mobile and Orange, through its stores of Phones4U. The exclusivity period lasts until the end of the year.
Inexplicably, there will be no unlocked version available for enthusiasts for this lock-up period. And Nokia said it may consider the exclusivity into the New Year, although no decision has been taken. I very much hope not. Unlocked models exist – an unlocked Lumia 920 is what I reviewed. Nokia's other WP8 model, the Lumia 820, has its attractions too – removable battery, more friendly rounded corners, and it can support wireless charging through a slip-on case – but it features the old 800 x 480 screen resolution and doesn't have the showstopper PureView OIS camera.
One aspect that is likely to disappoint punters is that they're getting last year's software, in most cases, albeit on a better infrastructure. Microsoft has done much of the the hard work in transitioning to the new kernel, and needs to announce and deliver updated apps sometime soon – by the end of Q2 next year.
Verdict
Evidently, with the Lumia 920, Nokia can once again deliver a phone handset with a game-changing and useful new technology feature. But relying on a platform partner means marching to its tune - and Microsoft has improved the bedrock of its Phone OS stronger without improving userland as it should have. Ultimately, the choice comes down to whether the camera benefits are worth the weight. And if you want network freedom, you're going to have to wait. ®
More Handset Reviews

Sony
Xperia T
LG Vu
A History of the
Smartphone
Samsung
Galaxy Note 2
Apple
iPhone 5

Nokia Lumia 920 Windows Phone 8 handset review
Nokia's flagship WP8 handset focuses on camera tech to differentiate from its rivals.
Price:
UK – on contract only RRP