Heading into the Pit
Discouraged, I decided to skip Quatermass II - More of the same, probably and fast forward to Quatermass and the Pit, the third and final outing in the original series, and thus wallow in the technological advances of futuristic 1958.
There are several pieces of news to be absorbed up front. The first thing is a disappointment: Holst's marvellous Martian anthem has been dumped from the title sequence in favour of a windy-string and farty-brass piece of discord that threatens the end of the world but mostly delivers the desire that its noise will stop. A queer decision (if I may again borrow the phraseology of the era - it is quite as infectious as the contents of any space rocket capsule) as the baddies do indeed turn out to be Martian.
Second, Professor Quatermass is played by a different actor, André Morell, who sports a bow tie like Frank Muir or a Harley Street gyney. The original actor had died even before Q2 was made, forcing one cast change, but they changed again for Q3 anyway. Thus two key British TV sci-fi tropes, bow-ties and lead swaps, were established very early.
Third, the technical problems of Q1 have been sorted. Although still broadcast live, the BBC has now learned tricks of the trade such as having half-decent cameras and keeping the subject in focus and on mic. Also, the picture appears ultra-hyper-sharp, at least on my large 19" Japanese television receiver, having had some quality-enhancing boffinry called VidFIRE applied to it for the transfer to DVD.
The plot: trouble starts when Quatermass's palaeontologist pal Matthew Roney discovers some missing link type skulls on a building site in Knightsbridge, but further excavation apparently reveals a large unexploded World War II bomb. Roney involves Quatermass, hoping his military contacts will expedite the clearing of the UXB, but it rapidly becomes clear that the object is something else altogether - ie: a 5-million-year-old spaceship. Obviously.
Stated baldly, as I just have, this sounds improbable and ridiculous. But, and I fear this is a trite observation, Nigel Kneale shares with the ghost story writer M.R. James the ability to pile up small individually plausible details to build an implausible whole.
Further evidence of Kneale's writing skill is the way he turns the technical limitations of TV into an advantage. No, I don't mean the necessity of keeping the monsters hidden until the last moment, while a modern production relishes the first opportunity to unzip its CGI fly and wave its synthetic jewels in the viewers' faces - although this non-waving is also a good thing. I have in mind Kneale, as a consequence of "doing it live", has to provide time between scenes for his leading actors to scurry from one set to the next, and to perform any necessary costume changes. These amount to either a) donning a sensible coat or mac to go down the eponymous pit, or b) taking it off again to come back indoors.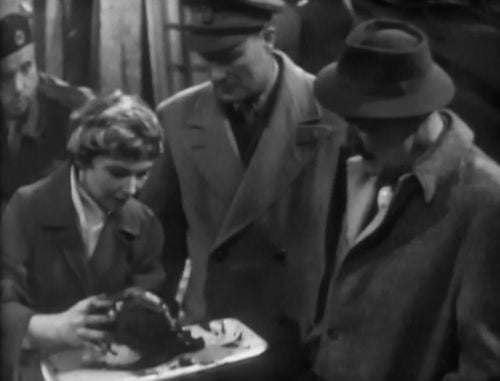 "Sensible coats all round"
Source: BBC
Kneale fills the gaps with dozens of minimal human portraits: not lazily-written stereotypes but real thumbnail sketches brought to life for 30 seconds by long-forgotten character actors. The woman with the senile husband, the pub bore, the rubberneckers at the barrier, the moronic teddy-girl. In this respect it reminds one of incidental characters in Dorothy L Sayers' novels, whose antics are nearly as much fun as Lord Peter's own.
Finally, and this is an idea that I find the hardest to capture, there is a wonderful sense of grown-upness that purveys the whole production. Although it does not quite achieve Jane Austen levels of non-coincidence - I don't think England's Jane ever had one of her ladies, as part of an electronics-dabbling hobby, develop an optic-encephalograph to do some crucial late-plot mind-reading - there is little resort to useful coincidence and the dei generally remain sat in their machina munching meat-paste sandwiches. Similarly, there is emotion on display, but it doesn't lurch over into sentimentality; there is principle and moral purpose, but it is not allowed to degrade into pomposity and lecture.
I admit I came to Prof Quatermass with the intention of having a little fun with him - after all that is, as I understand it, my job on El Reg. But I stayed to admire a wonderfully intricate, clever and dignified piece of work, which does indeed deserve its classic badge. So there.

Stobnote
The DVD booklet reports that the original audience reaction index for Quatermass and the Pit was 71. The audience appreciation index for the recent Doctor Who episode A Town called Mercy - yes, yes, the dreary cowboy one - was a whacking great 85. When Mr Gove has finished fixing grade inflation in GCSEs, I have another job for him. ®