This article is more than 1 year old
20 years of GSM digital mobile phones
How far the cellphone has come since the Nokia 1011
All the rage, all the connectivity...
By this point the fashionable side of our phones had taken off. Ericsson's GA628 handset was the first to offer a range of colour choice and customisation, while Siemens had a punt at a colour display with its S10 model. The latter, which only offered four hues in total, proved unpopular with consumers, though.
In 1998, Nokia went a step further and launched the 5110, which captured creative hearts with its interchangeable Xpress-On cover system. More importantly, it was one of the first phones to feature the game Snake. The 5110 remains one of the most popular mobile models of all time.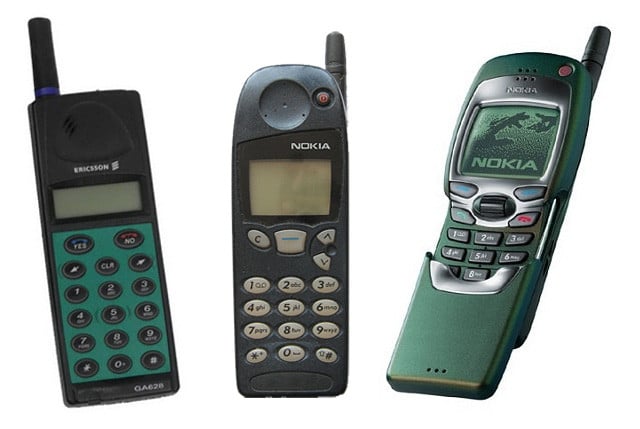 Ericsson GA628 (1997), Nokia 5110 (1998) and Nokia 7110 (1999)
Nokia 5110 source: Soltys0 / WikiMedia
The following year, phones had dropped in price so much that the likes of Tesco offered PAYG handsets for under £50. Price wars were inevitable. That year, Nokia touted the first WAP-enabled phone - the 7110 - as well as its popular 8210 model, which also came with a range of Xpress-On covers.
Motorola, meanwhile, unveiled the world's first tri-band GSM phone - the Timeport L7089 - which meant those travelling over the pond and beyond no longer required the use of separate devices. The handset was later outclassed by the Nokia 6310i, which quickly became the business traveller's phone of choice.
A new millennium was upon us and mobiles started to take centre stage. In 2000, Nokia continued its handset dominance with the consumer-friendly 3310, which added new ringtones and popularised the successful Navi Key function first seen on its predecessor a year before. Scrolling through the menu system had been made much easier as a result.

Motorola Timeport (1999), Nokia 3310 (2000), Ericsson T36 (2000) and Nokia 6310i (2002)
BT Cellnet - which had yet to be rebranded O2 - launched the world's first GPRS network too, although enabled devices were thin on the ground. Ericsson on the other hand became the first vendor to stick Bluetooth into a phone with its tri-band and WAP-enabled handset, the T36. It also has the honour of being the first company to release a device marketed as a smartphone, the R380.
The Ericsson R380 was a significant step in the evolution of our mobiles as it was one of the first phones to feature a touchscreen panel.
The idea of touchscreen phones had been around for decades, first with an Apple concept landline set in 1983 and the IBM Simon nine years later, however it wasn't until the introduction of the Symbian OS alongside the R380 that manufacturers started to deem it a viable feature.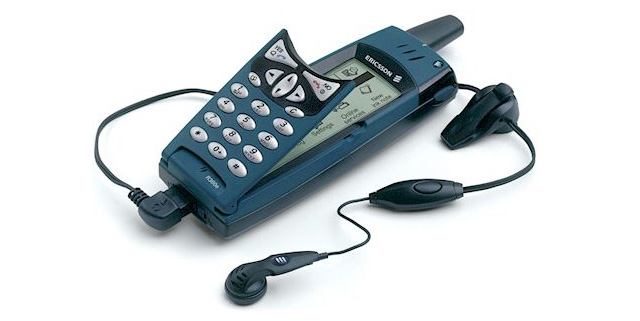 Ericsson R380 (2000)
Many manufacturers were instead focusing on music, photography and games to take phones beyond voice and text communications. Overseas the concept of cameraphones had really started to gather momentum at this point.