Apple seeks cooling fan patent for iPhone, iPad
Don't laugh, it's not as wacky as it sounds. Oh, never mind: laugh
---
A future iPad – or even iPhone – might have a cooling fan inside, if a just-published patent application ever makes it off the drawing board and into an iOS device.
The application, "Cooling System for Mobile Electronic Devices", was published on Thursday by the US Patent and Trademark Office, and describes the combination of a cooling fan and an alert device – a familiar offset-weight vibrator – with both being spun by the same motor.
"The desire for mobile electronic devices to be able to perform more complex processes requires faster and more powerful processing devices," the application states. "However, faster and more powerful processing devices may produce more heat than prior processors used in mobile devices."
At first blush, the idea of placing a cooling fan into a handheld device might seem a wee bit far-fetched, seeing as how not only is space at a premium in smartphones and fondleslabs, but also the mere though of a fan buzzing about in a pocketable or purseable device seems, well, a bit wacky.
But the patent application's inventors Fletcher Rothkopf, Teodor Dabov, and David Kumka have worked a few clever ideas into their proposed cooling system – that single motor used to operate both the alert device and the fan, for example.
The filing describes a variety of clutch designs the could engage one or another of the spinning elements. One set of "embodiments", in patent-speak, would use a centrifugal clutch to set one or another of the devices spinning when a certain rotational velocity of the motor is reached.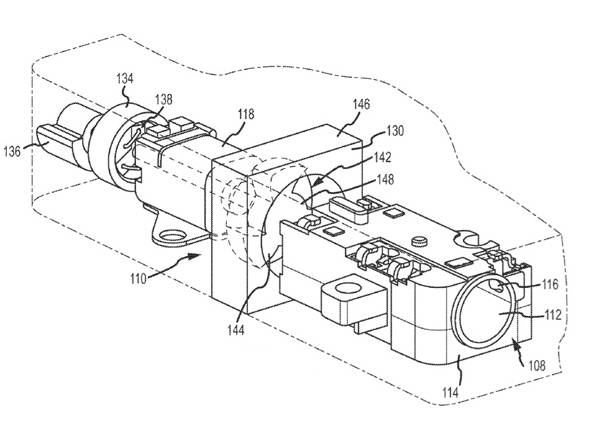 The fully assembled "Cooling System for Mobile Electronic Devices", and ...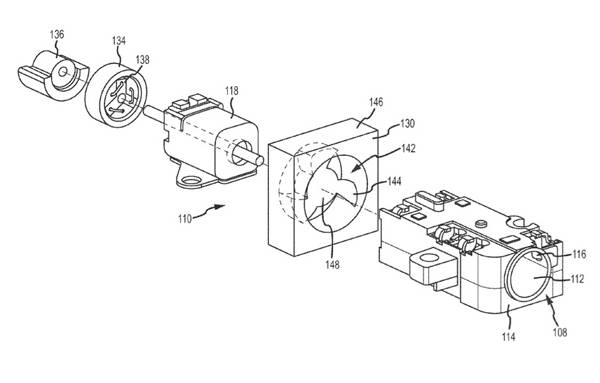 ... the same contraption in an exploded view
The inventors were apparently quite enamored of the idea of a centrifugal clutch, as they've provided a number of different concepts as to how it might be implemented.
The filing also suggests an embodiment in which one or the other of the two spinning elements might only be engaged when the motor was spinning in one direction. Using this type of clutch would, for example, allow the fan to spin at different speeds, but only engage the alert device when the motor reversed.
Another bit of cleverness – obvious when you think about it, but not so obvious if you haven't – is the filing's suggested use of the iDevice's audio-out jack as either an air input or output port. Presumably, some sort of alert might be needed to inform the user that it was time to unplug his or her headphones before the device melted down.
Interestingly, buried in the 21-page patent application is exactly one mention of "other coolants," which indicates the possibility that the cooling system might be a sealed one in which a fluid is circulated by a fan – well, a pump, in this embodiment – from relatively warm to relatively cooler areas inside the device's case.
All this hardware oddness begs one question, of course: why would low-power ARM-based chips such as Apple's A series, fabricated in increasingly smaller and therefore increasingly less power-hungry manufacturing processes, need to resort to such a complex, space-wasting scheme as fan-based cooling?
Perhaps the recent rumors of Apple ditching Intel chips in its Macs and moving to an all-ARM processor lineup are baseless. Perhaps Cupertino is thinking different – opposite, in fact – and planning to replace its own ARM-based A series chips used in its iPads and iPhones with relatively toastier Intel chips, and it's aiming to nail down innovative cooling technologies, just in case.
If you believe that speculation, however, The Reg has a certain bridge it would like to sell you, one only slightly worse for wear after its recent run-in with Superstorm Sandy. ®