This article is more than 1 year old
Assassin's Creed 3 game review
Scales and tales
Silence is a virtue
On to the game and all begins briskly enough. For me, one of Assassin's Creed's flaws has always been in its posturing – yes AC2's Ezio was an action man for all seasons, capable of decimating a city's watch singlehandedly, but is that really the point?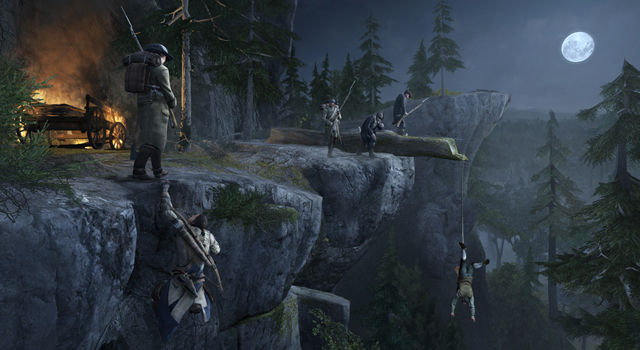 Cliffhanger
Surely assassins aren't about confrontation, they're about the quiet kill and soundless escape. Without spoiling AC3's interesting opening, that's exactly how things kick off, with a silent, efficient assassination within Covent Garden, of all places.
Soon enough, we're firmly on American soil and from there, well, it's back to business as usual. The series largely distances itself from its stealthy beginnings and plumps for all-out warfare as the Revolutionary War heats up.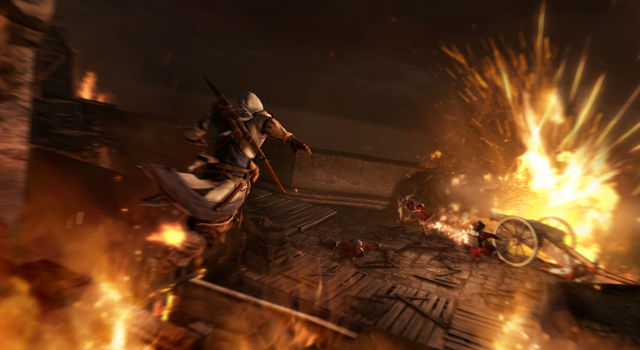 Cannon fodder
The breadth of AC3 is immense and Connor's missions are ever-changing to keep the player guessing. One minute you'll be chucking buckets of tea into the docks in an RTS-lite timed challenge, the next you'll be duelling with your next assassination target – the tweaked swordplay makes the latter more interesting too. And then you'll be heading off to the high seas to play ship's captain.
And that's not counting other myriad tasks such as side missions, building up the tradesmen at your base and upgrading your weapons, armour and the like.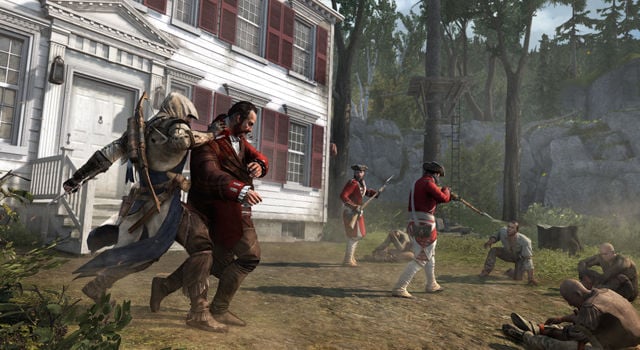 Taken from behind
In a nod to Red Dead Redemption we're handed huge areas to explore this time around and, as in Rockstar's western, the best means of transport is on horseback. Here, riding into dramatic sunsets rarely feels as smooth, the horse's animation never quite dovetailing with its environment in the same manner as Red Dead, making trotting through the forested wilderness something of a chore despite the beauty of the environments.