Bargain! Desperate Comet SLASHES price of £4,400 iPod Nano
No wonder they had cash flow problems
---
Pic Comet has generously slashed 97 per cent off the price of an Apple iPod Nano, touting the pocket-stroker at £129 rather than an eye-watering, er, £4,444.
Until now the chain's clearance sale may not have impressed deal-hungry shoppers, but this saving was sadly too good to be true.
The photo below shows a standard Nano model on sale in Comet's Mansfield store in Nottinghamshire: but there was no gold trim, it was not encrusted with 4 diamonds and nor was it previously owned by Apple's late billionaire biz baron Steve Jobs.
Other discounts in the store were more in keeping with a typical stock burn: 10 per cent off laptops, tablets, headphones, and a fifth off toasters and kettles.
It's unlikely, therefore, that a rogue sales bod has decided to cause mischief before heading out of the door and into a branch of PC World or Currys, which are trying to lure Comet workers for Christmas.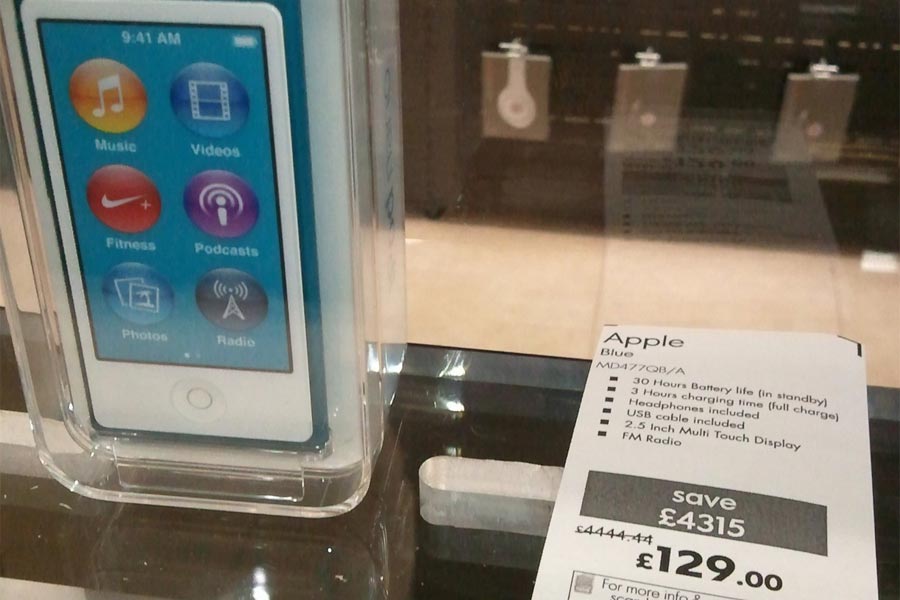 Reassuringly inexpensive
As revealed yesterday, Comet is allowing shoppers to use gift vouchers while it remains in administration. Deloitte is seeking a buyer, but it is considered unlikely that someone will buy the firm as a going concern.
Comet fell into administration late last week after being unable to overcome cash flow issues caused by the loss of credit insurance and suppliers demanding cash upfront with orders. ®
Thanks to reader Jonathan Stewart for spotting the iPod Nano pricing cock-up.