DDN pulls muzzle off hybrid Big Data gobbler
Eats seven times as much as rivals, says proud owner
---
DataDirect Networks has announced its SFA7700 hybrid flash and disk drive scale-out filer appliance for Big Data and high-performance computing-type applications. It's the latest in a series of Big Data announcements that take into account the convergement trend, and DDN must be hoping that its latest beastly appliance can hold its own against other flashy filers on the market.
The base box is a 4U rack enclosure holding up to 60 flash or disk drives. The SFA7700 expands to 396 disk drives in a 20U cabinet and is a fully redundant and modular system. The storage host port options are 8 X 56Gbit/s FDR InfiniBand ports, 16 X 8Gbit/s Fibre Channel or 8 X 16Gbits Fibre Channel. The sequential read and write performance is up to 10GB/sec per appliance.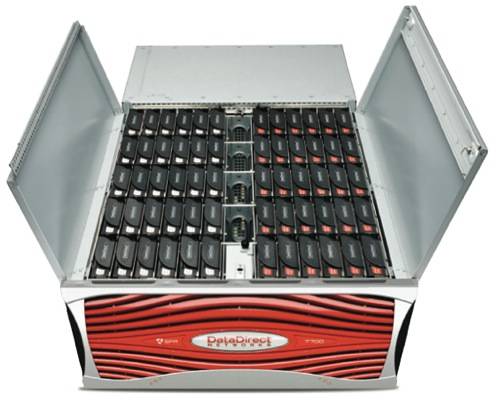 DataDirect SFA7700 appliance
It comes with a Storage Fusion Xceletator (SFX) flash acceleration tool suite, which works to speed both block and file access and delivery, and includes:
SFX Read: Read caching to accelerate frequently accessed data
SFX Write: Accelerate writes
SFX Instant Commit: Automatic cache warming of recent writes
SFX Context Commit: Application-driven intelligent data caching
DirectMon: Management and monitoring product suite - one pane of glass for ease of management
DirectProtect: A self-healing engine and data integrity protection suite
ReACT: Real-time adaptive RAM cache management
DDN claims the SFA7700 can be more than seven times faster than competing scale-out filer products such as EMC Isilon's NL-Series.
The system can also run DDN's EXAscaler and GRIDscaler parallel file systems technology. It can surpass 100GB/sec bandwidth and DDN tells us that the caching tool set eliminates filesystem hot spots. Get more information here (PDF). It will be available in early 2013. ®