This article is more than 1 year old
'Bundle' signals from SPACE seize control of small car in Germany
ISS 'naut takes the wheel of Lego motor in bundlenet test
An internet hookup intended for interplanetary use has been used by an astronaut on the International Space Station to drive a small lego car located in a laboratory in Germany.
Station commander Sunita Williams was able to drive the car around the European Space Operations Centre in Darmstadt last month by sending out commands from the ISS using the "interplanetary internet" - NASA's experimental deep space comms channel based on their Disruption Tolerant Networking (DTN) protocol.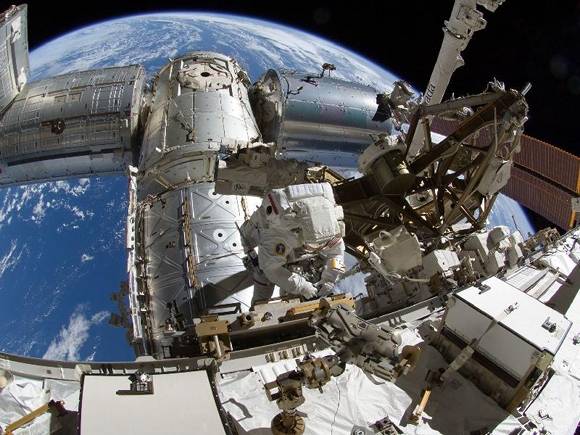 Sunita Williams on a spacewalk outside the ISS. Last month, she controlled a small lego car
The test is part of NASA and the European Space Agency's attempt to enable long-distance robot control over an internet-like protocol. And one of the ways that NASA and the ESA have decided to test out deep space internet is by doing it in reverse - using humans on the International Space Station and robots on earth. It's easier than sending the lego to Mars.
At the core of Disruption Tolerant Networking is the Bundle Protocol (BP) similar to the Internet Protocol, or IP, the basis of the Internet here on Earth.
Bundle Protocol is built to withstand both the long distances and time delays associated with communication through deep space, allowing for errors and disconnections — glitches that commonly plague long-distance comms.
Data moves through the BP network in a series of short hops, waiting at one node until the next link becomes available, NASA officials said.
Badri Younes, deputy associate administrator for space communications and navigation at NASA HQ, said that the comms channel used to control a lego car today, could be used to control robots on Mars in the future:
The experimental DTN we've tested from the space station may one day be used by humans on a spacecraft in orbit around Mars to operate robots on the surface, or from Earth using orbiting satellites as relay stations.
®