This article is more than 1 year old
Facebook's IPO was a disaster? RUBBISH, you FOOLS
Well, not for Facebook, anyway
Woe, woe and thrice woe unto the capitalist system: for Facebook's IPO has been a failure.
Mere months after they floated the thing off, the share price is under half what it was and this is indeed, as those like The Guardian tell us, a large and serious problem, prompting headlines such as:
Why has Facebook's stock market flotation been such a disaster?
At which point I say: 'Pish', and possibly even 'Rubbish, you fools'. For in my part of the capitalist universe, selling something this week for more than you can sell it next is regarded as a success. But given that everyone tells us that the Facebook flotation has indeed been a failure it's worth running through the reasons why it isn't.
There are a number of possible reasons why a company might float. The most obvious being that they'd like to get some money – INTO the firm that is – sell some new shares in the company and nicely boost the amount of capital which is available to it. This could be because the firm wishes to develop further, invest in current or new lines of business. It is equally possible that the major shareholder wants to cash in a bit and go buy that Gulfstream. Might be that other original investors would like to get out. How and whether firms float onto a public market are driven by which of these reasons are most important.
Reasons to be cheerful
However, with Facebook, none of these reasons really have much force.
The company didn't actually need more capital; there was already a market where the founder and other shareholders could cash out. The actual definite reason for the float was that they were at risk of breaching a strange and particular little US rule. They were going above 500 shareholders. That's actual "outside shareholders", not just option grantees or staff with stock, and in kicks an SEC rule that burdens such a company with all of the disclosure and reporting requirements of a fully public company. So, if you've got to bear the costs anyway, you might as well get whatever benefits there are. And that's really what pulled the trigger in that IPO: going over 500 outside shareholders.
As to raising money for the company, yes, Facebook itself, the company, did sell some shares in the flotation. Just about enough to cover the tax bill on the options that the company had granted to employees and the like.
But if it wasn't a public company, then how come there was indeed a market on which insiders could unload their stock? That's a place called "SecondMarket". It specialises in offering some sort of liquidity for shares in companies that are a little past their VC stage but not quite ready for the big time markets as yet.
You have to be one of the big boys – a "sophisticated investor" – to be allowed to go and buy on there, but the various insiders in the company – Zuck and Thiel and all the rest – could indeed, if they so wished, sell some of their stock there. And this is indeed what many of those insiders did in some part, which is exactly why the company was roaring through the 500 outside shareholders mark and thus faced the costs of being a public company without the benefits.
The existence of this not very liquid but extant market does bring us to a cheery tale about Eduardo Saverin.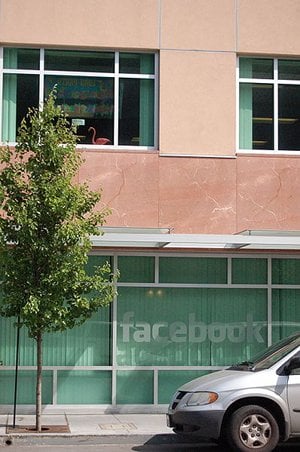 The Facebook headquarters in Palo Alto, California.
Credit: Steven Walling, licensed under Creative Commons
Saverin's the guy who stumped up $30,000 in the early days to get the company going and has ended up with several billion's worth (a number that is still shrinking!) of stock. Saverin decided to renounce his US citizenship back last autumn and one of the things that does is triggers a tax event. The IRS calculates your tax bill as if at that date you have sold everything you own, crystallising all of your capital gains. You then pay the normal rates on whatever those are.
There was a certain furore when this became public knowledge just before the float: people shouting that he was trying to get out of his taxes. But as it actually happens, the price of Facebook on that SecondMarket back last fall was about the same as the price at which it IPO'd. In fact, it was significantly above the price today: so Saverin has, most enjoyably, crystallised his tax bill at some vast number above what it would be if he left or sold now. And no, he can't get any of that back. My last back-of-the-envelope calculation was that he'd overpaid by $100m or so.
So the insiders could sell at a reasonable valuation already, it was really only that SEC rule that led to the IPO. But what about the financial needs of the company? Picking up some great chunk of capital?
Well, they didn't do that either, because they didn't really need it. They are cash flow positive and have been for some time. They bring in more each year than it costs them to operate, so they're generating their own money for capital investment. They did have to cover those tax bills on options and share grants, but why raise more capital than that? All you're doing there is diluting the shareholdings of the insiders for money that the company doesn't need.