Acer lowballs on price with Celeron-powered C7 Chromebook
Google finally breaks sub-$200 price point
---
Google has added a third laptop to its current Chrome OS range with the Acer C7, a budget Chromebook that will sell for under $200 in the US from Tuesday and will arrive in the UK shortly.
The C7 is a three pound laptop with an 11.6-inch, 1366x768 screen powered by a 1.10GHz Intel Celeron 847 processor with 2MB L3 cache and 2GB of DDR3 memory. The unit has a 320GB platter hard drive, plus a two-year free Google Drive account for 100GB of additional online storage (with 802.11 a/b/g/n to get there), and a claimed 3.5 hour battery life.
"Today's computer users are doing more online, heightening the need for enhanced security, quicker online access and an easy-to-use interface," Jim Wong, corporate president at Acer said in an emailed statement.
"The Acer C7 Chromebook provides all this at an affordable price, making it the right choice for families and students on a budget as well as anyone who wants a new or second mobile PC for web-based computing."
While breaking below the $200 barrier is an important psychological step, the devices have more hardware connections than you'd expect at the price. The C7 has an Ethernet port and it has three USB 2.0 sockets, along with HDMI and VGA connectors and an SD card slot. Acer's even throwing in 12 vouchers for in-flight Gogo internet sessions on US airlines.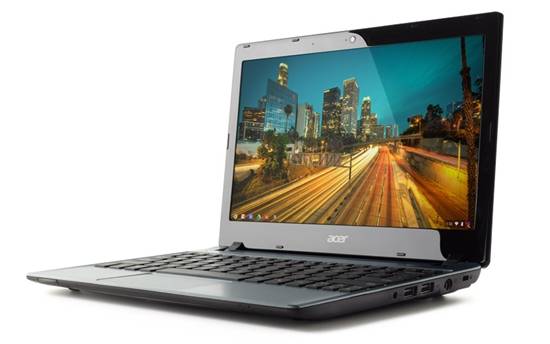 The C7 Chromebook - cheap as chips
The C7 is also unusual in that it eschews the ARM chips Samsung is currently using in its low-end Chromebooks and the Intel Atom processors found in earlier systems running Google's online OS. The move to Celeron, even if it's a relatively puny Core processor, doesn't make it look like the Atom is winning over laptop OEMs any more.
Google's going to be selling the C7 via the Play Store and the remaining Best Buy retail stores in the US will carry it, as well as the company's online store. In the UK the systems will be sold via Amazon, PC World, and Currys. ®