Updated Intel has released what it calls its "highest performance Extreme Edition processor," along with a new "Extreme Series Intel Desktop Board" into which to plop it.
"Unlock and Unleash with Extreme Confidence," the company says in its announcement of the new enthusiast products, which include a "full complement of controls targeted for performance tuning and overclocking."
The new i7-3960X* for desktops joins the i7-3920XM for laptops, released earler this year, at the top of Intel's enthusiast line.
Enthusiasts hankering for either of those two chips should be forewarned that they'll pay a hefty premium to chase the heights of enthusiastic performance: the OEM "tray" price for the the i7-3960X is $999 and the i7-3920XM, $1,096; the new i7-3960X is also available in a consumer-market box for $1,059.
The six-core, 12-thread i7-3960X has a base clock speed of 3.3GHz that's turbo-boostable to 3.9GHz, and includes 15MB of cache. It supports 64GB of RAM in four DDR3-1066/1333/1600 memory channels with a maximum bandwidth of 51.2GB/s, is baked in a 32-nanometer process, and has a thermal design point (TDP) of 130 watts.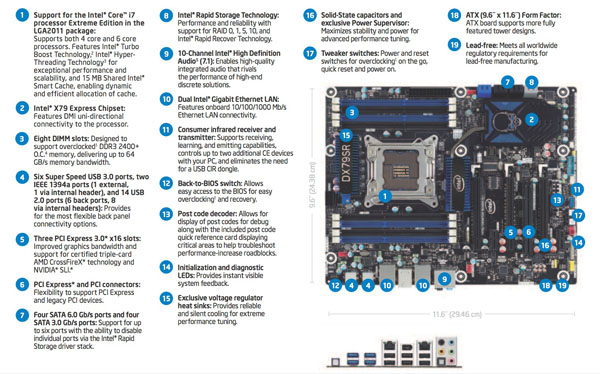 the Intel Desktop Board DX79SR Extreme Series is chock-full of enthusiast-level goodies (click to enlarge)
The new Desktop Board DX79SR, code-named "Stormville", is – as surely you've guessed – based on Intel's X79 Express chipset, and is designed for Extreme Edition processors like the i7-3960X that slip into its LGA2011 socket.
The DX79SR has three PCIe 3.0 x16 slots along with eight DIMM slots that Intel says will support overclocked DDR3-2400 memory, delivering up to 64GB/s memory bandwidth – although Intel notes in a fine-print footnote on the board's product brief that "DDR3 2400 memory support on this motherboard requires advanced knowledge of BIOS and memory tuning; individual results may vary."
The same fine print also issues a stern note of caution to overclockers: "Warning: Altering clock frequency and/or voltage may (i) reduce system stability and useful life of the system and processor; (ii) cause the processor and other system components to fail; (iii) cause reductions in system performance; (iv) cause additional damage; and (v) affect system data integrity. Intel has not tested, and does not warranty, the operation of the processor beyond its specifications."
That language was undoubtedly inserted by Intel's legal team, but it's unlikely to deter enthusiastic overclockers undaunted by the prospect of unspecified "additional damage." ®
* Update
As of 8pm Pacific Time, Intel's announcement of the new Extreme Edition desktop processor identifies it as the i7-3970X. Although your reporter's memory isn't of any help, it's possible that The Reg erred earlier when calling the new proc the i7-3960X, seeing as how the link that Intel's announcement provided to obtain more information about it included a follow-on link to the i7-3960X.
At this moment, there's no detailed information available on Intel's website about the i7-3970X, other than the announcement of its existence – and it's too late in the evening to roust Chipzilla's PR folks.