Intel plans Core i7 bare bones mini-PCs
'Guts of an ultrabook' inside 'Next Unit of Computing' machines
---
Intel has launched the first unit in a range of bare bones mini-PCs it says will first appeal to system integrators creating digital signage solutions and then eventually excite businesses of almost any size.
The new device is part of Chipzilla's Next Unit of Computing (NUC) range. Intel currently plans three NUC devices, each intended to reside in a 10cmx10cmx5cm chassis. Sold as kits or just as a bare board, the NUCs all support the Core i3 processor and offer the QS77 Express chipset. Power comes from an external DC supply.
Kamil Gurgen, Intel Australia's distribution business & technical manager. Described the NUC as containing "the guts of an ultrabook".
The first model, the DC3217BY (PDF), sports a core i3 i3-3217U CPU, three USB 2.0 ports, one HDMI connector and Thunderbolt. A VESA mounting bracket is included in the case, because Chipzilla expects the device will be bolted to the back of monitors deployed in digital signage rigs according to Kamil Gurgen, Intel Australia's distribution business & technical manager.
"In emerging countries like Malaysia and Thailand, digital signage is going through the roof," Gurgen told The Reg. "They need a small and simple computer that is fast enough to handle it."
Gurgen expects system integrators – the NUCs will be channel-only unless a PC-maker adopts the devices – will populate the NUCs' pair of mini-PCIe slots with solid state storage (a full-length slot is mSATA-ready) and use the other half-length slot for a WiFi or Bluetooth module to connect digital signs to a source of new content.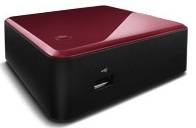 A NUC DC3217BY
System builders will need to come aboard as the devices lack memory, storage and an operating system.
Gurgen said he understands roadmaps for the NUC range suggest it will adopt Intel's "good better best" motto, adding Celeron processors for low end devices and then reaching all the way up to the Core i7.
Other applications Gurgen envisions for the machine include point of sale, as the computer is easily hidden, or as a way to bring Windows 8 to business by bolting the device behind a touch screen. He also feels that in developing countries the ability to daisy-chain the machines using Thunderbolt could see that protocol become a handy LAN alternative under some circumstances. In mainstream businesses and/or developed countries, Gurgen said he can envisage NUCs in desktop virtualisation rigs.
Intel is not new to providing bare bones computers – its has offered servers to the channel for some time. Bare-bones PCs could raise eyebrows among more established PC-makers, but Gurgen said he feels such companies will understand the situation.
"The channel play has always been about re-branding," he said. "The NUCs allow configurability and segmentation of the product."
The first NUC, the DC3217BY, will go on sale in November, with a twin-HDMI-and-HD-graphics-4000-equipped model DC3217IYE due in December before a third device arrives in the New Year.
Gurgen said Intel has already conducted a roadshow to demonstrate the device, generating great enthusiasm along the way. "We are in the process of go to market readiness at the moment, he said. "We need to make sure people are up on the mSATA solid state disks and WiFi modules."
One market Gurgen did not mention is hobbyists, a significant omission given early reports of the NUC range portrayed it as a Raspberry Pi-eater. Given the cost of the units, the need for extra components and the fact Intel offers very few downloads for operating systems other than Windows, the NUCs seem destined not to have mass appeal in the Pi's slice of the market. ®