This article is more than 1 year old
Mini retail empire Micro Anvika implodes, one shop to be shopped
Administrator sets about demolition of London landmark
The administrator of Micro Anvika is continuing to trade the operation out of two stores on London's Tottenham Court Road - one of which will close within weeks - as it mulls over offers for the remnants of the retailer.
Back in late September, management at the veteran retailer called in business advisory service and insolvency practitioner Re10 after a CVA approved in May failed to steer sales in the right direction.
Gary Rupping, manager at Re10, confirmed the closure of Micro Anvika's Fenwick branch near Newcastle Upon Tyne that had been kept open temporarily after Re10 was appointed administrator.
"We closed the Fenwick site; it wasn't profitable," he told The Channel, adding that the bottom line had not been helped by the group cost of hauling stock to the location.
The receiver laid off all 50 workers as soon as it was appointed but retained a skeletal staff as contractors to run number 6 and 53 on Tottenham Court Road, with the latter set to close in the next weeks when the stock clearance is complete and the free rent deal ends.
"We are trying to sell number 6 as a going concern. We have a few offers under consideration - we'll know in the next three to four weeks who is going to buy it," Rupping added.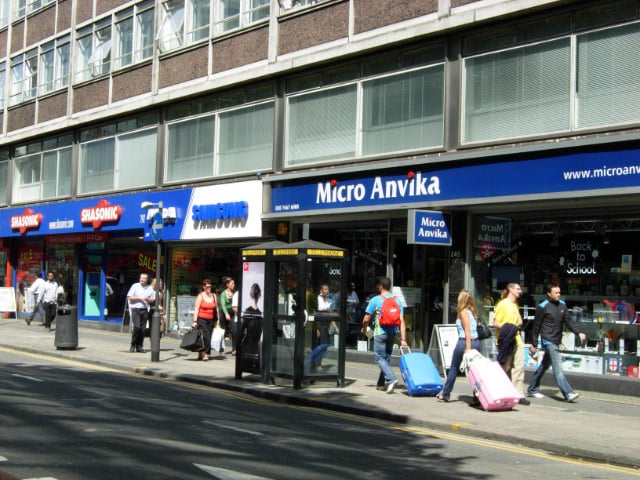 Copyright Stephen McKay and licensed for reuse under this Creative Commons Licence
The original owners of the business, Ramesh Gohil and Atul Patel, had considered making an offer but due to the experiences of the last five years decided to "tip their hats" and walk away.
It's a sad for those individuals who set up Micro Anvika in 1984 and built it into a once-flourishing tech retailer that was staffed with relatively knowledgeable people.
The removal of credit lines late last year - in an echo of what just happened to Comet - came about as insurers were nervous about the firm's future.
But the impact of online shopping, costly overheads and a failure to bring the High Street shopping experience into the 21st century set the firm on a collision course with failure long before that. ®