Finding a manufacturer
It isn't known how many other British manufacturers the CCTA and the Department of Trade and Industry (DTI) approached, but one of them was certainly Dragon Data, the financially troubled maker of the Dragon 32 and Dragon 64 home computers. By the time the CCTA first talked to Dragon, the company had been bought from its founding parent, Mettoy, by the UK electricals and electronics giant GEC.
After the release of the Dragon 32, the Wales-based Dragon Data had established a nascent R&D team under its Technical Director, Derek Williams. Its task: to begin creating the next-generation products that would follow the 32 and its stop-gap upgrade, the Dragon 64. The Dragon 32 had been designed by a third-party consultancy; Dragon Data management wanted this crucial work and the expertise it required brought in house.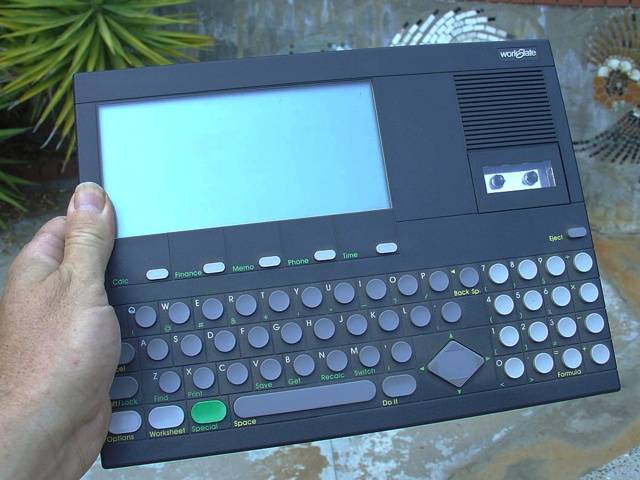 The Dragon Portable that might have been: Convergent Technologies' WorkSlate
Source: Bruce Damer/DigiBarn Computer Museum
Williams was tasked with seeking out new opportunities for Dragon and while travelling in the States in early 1984 his attention had been drawn to a machine spotted on the front cover of a magazine: Convergent Technologies' WorkState, a machine not unlike Epson's HX-20 but based on the Motorola 6800 processor family, as was the Dragon. It was designed less as a general-purpose computer more as a mobile spreadsheet - a numerical version of the text processor Bernard Terry was pondering back home. Williams was impressed by the WorkSlate's potential as an easy-to-use device for business people, and realised it would fit very nicely into Dragon's product line.
"I came back to the UK to find a letter on my desk from the CCTA, which was looking for a British company to make a portable text processor for the Civil Service," Williams told me. "I thought, 'Wow, this is amazing - the WorkSlate could be exactly what they're looking for'. So I organised a meeting, went up to London and met Bernard Terry."
It didn't go quite as Williams had expected. "I outlined how I felt the WorkSlate could fulfil the need the CCTA had. Bernard was pretty solemn-faced throughout my presentation, and then he proceeded to just about wipe the floor with me, telling me everything that was wrong with the WorkSlate. I was just about to say 'thank you very much' and go when he said, 'Now I'll tell you what's right with it'."
Williams took Terry's comments on board and promised to come up with a spec for a machine that would fit the bill. "And that's what I did," he recalls. "It took about two or three weeks, and I came with a spec which I discussed with Bernard, and he said, 'Yes, this is something we can take forward'."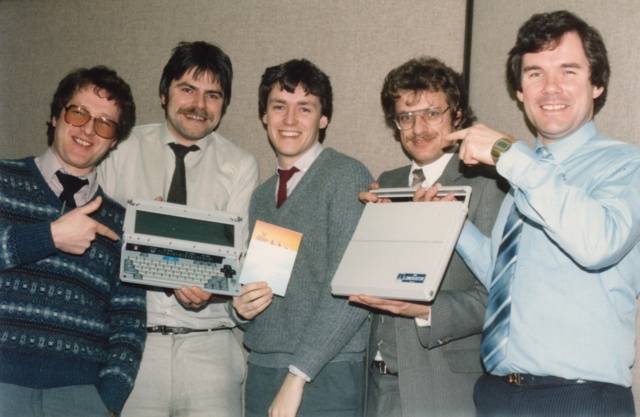 Dragon Data's former R&D team, then at Thorn EMI, on the completion of the Liberator laptop:
(L-R) Duncan Smeed, Jan Wojna, John Linney, John Peacock and Derek Williams
Source: John Linney
At the same time, of course, the Dragon R&D team was working on other, rather more important, more concrete projects too, including a dual-processor Dragon for business users. But this was never completed: Dragon Data, by now renamed GEC Dragon, was declared unsustainable by GEC bosses and put into administration in May 1984.
Past histories of Dragon have often mentioned an unnamed portable that was intended to be pitched to business buyers. This is almost certainly a distorted mix of the WorkSlate brought home by Derek Williams and the CCTA machine the Dragon team was asked to consider.
After his meetings with Bernard Terry, Derek Williams was all fired up to persuade Dragon's management to take on the CCTA contract. The collapse of GEC Dragon put an end to that, but Williams was enterprising enough to realise that even though Dragon was no more, the company's tightly knit R&D team had the exactly right expertise to take on the CCTA project, left hanging by the closure. Williams and John Peacock, Dragon's Finance Director, began exploring how to make this happen.
One of the Dragon R&D team's software engineers, John Linney, recalls that Williams and Peacock initially hoped to form a new company to tackle the government project. Local money men and venture capitalists were approached, Peacock remembers, but none were keen to invest in the then troubled computer business. He and Williams also approached electronics companies, such as Race, but without success.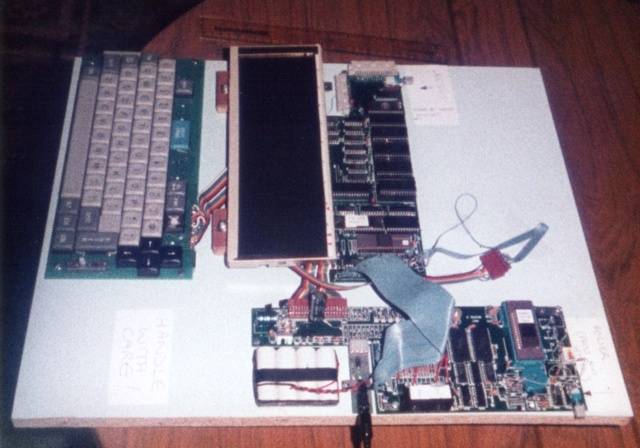 The Liberator prototype - then dubbed the 'Management Aid Tool'
Source: Bernard Terry
In the end, it was an industrial giant, the guns-to-music combine Thorn EMI, which took Derek Williams' engineering team - Linney, hardware engineer Jan Wojna and Dragon software chief Duncan Smeed - under its wing. They would report directly to Williams as technical lead. John Peacock would manage the machine's component suppliers and cashflow.
"We were introduced to Thorn EMI by Bernard Terry," remembers Peacock. "We told about Thorn on Monday, met them on Thursday and started work the following Monday," he says.
Similar topics
Broader topics