University of Texas at Austin boffins are touting an advance in materials which could help squeeze five times as much data onto hard drives.
At a Terabit per square inch, data density is pretty impressive, but it's getting difficult to put the magnetic elements of hard drives any closer together without them starting to affect each other.
The researchers, led by professor C Grant Willson, are looking to self-assembling polymers which would provide nano-scale structures to "insulate" the magnetic elements from each other, to allow yet-greater density.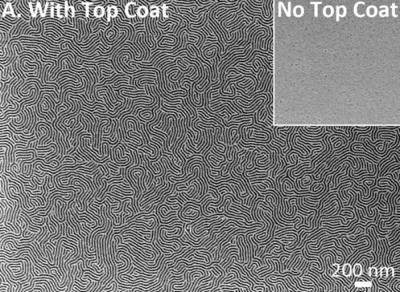 The future's fingerprint: organised structures for denser hard drives.
Image: University of Texas at Austin
The group is refining a technique called directed self-assembly (DSA), pioneered by MIT and the University of Wisconsin. The original research had already been demonstrated as able to double hard drive density, but wasn't ready for the "prime time" of mass manufacture.
In DSA, materials called block copolymers can be made to self-assemble into highly regular nano-scale patterns suitable for hard drive manufacture, the group says, following "guideposts" etched into the surface they're coating. The Austin process is also fast, with the coating organising itself into the right pattern in about a minute.
Hard drive vendor HGST is now testing the process to see if it's suitable for disk manufacturing processes. More here. ®</p