This article is more than 1 year old
McAfee founder claims police framing him for murder
Security boss boxes clever escape
John McAfee, antivirus pioneer and current fugitive from the Belizean police, claims he is being set up by locals as the fall guy for the murder of his next-door neighbor.
"Under no circumstances am I going to willingly talk to the police in this country," he told Wired. "You can say I'm paranoid about it but they will kill me, there is no question. They've been trying to get me for months. They want to silence me. I am not well liked by the prime minister. I am just a thorn in everybody's side."
Police are currently searching for McAfee after his neighbor, American expatriate builder Gregory Faull, whose body was found in his home on Sunday morning, dead from a single gunshot wound to the back of the head. Faull had filed a complaint about McAfee's recent behavior on Wednesday, and local police consider the former software maker a prime suspect.
McAfee denied any involvement in Faull's killing during his interview, saying that he'd heard of the case but that was it. He claims to have buried himself in the sand to evade police who came to search his home, leaving his head covered by a cardboard box so that he could breathe.
"It was extraordinarily uncomfortable." he said. "But they will kill me if they find me."
McAfee claims that the guard dogs he has on his property (and which Faull complained about) were all poisoned on Friday night by "black-suited thugs" who were dropped off on the beach outside his home by the Belizean coast guard. Four hounds, Mellow, Lucky, Dipsy, and Guerrero, died in the attack, he claims, and his neighbors – including Faull – wouldn't have done such a thing.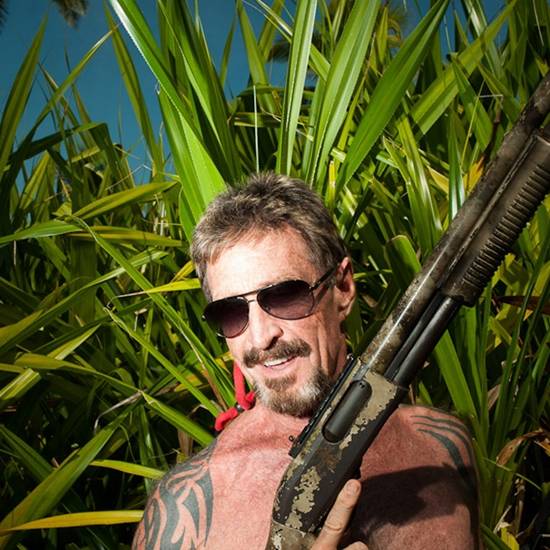 'I'm just a patsy,' McAfee claims (credit: Brian Finke)
"This is not something he would ever do," McAfee said. "I mean, he's an angry sort of guy but he would never hurt a dog."
As for Faull, McAfee suggests that maybe he was killed in a case of mistaken identity by an assassin looking for another target – namely him. Faull was shot with a 9mm Luger, but McAfee claims that he doesn't own a 9mm since his pistols were confiscated by police in a raid on his compound carried out in May.
Marco Vidal, the head of Belize's Gang Suppression Unit, which carried out the May raid and is now trying to track McAfee down, explicitly denied the antivirus writer's claims of framing and dog murder.
"Absolutely no truth," Vidal said. "This guy amazes me every day. We don't have anything personal against Mr. McAfee. There is no need for us to poison dogs."
McAfee said that he is still in hiding and isn't about to turn himself in for questioning, given his fears for his own safety. Nevertheless, he declared that he intends to stay in Belize.
"I like it here," he says. "It's the nicest place on earth." ®