Google's Nexus 4 is said to have been snapped up within 30 minutes of its UK release this morning. Getting hold of a Glastonbury ticket would have been easier, apparently.
The handset's affordable price obviously had masses eager with the Visa, ready to splash either £239 for an 8GB or £279 for a 16GB version.
Google's Play store wasn't ready for the sudden burst of visitors, though, as hordes of punters descended onto the site, creating mass congestion.
Within 30 minutes, all variants of the Nexus 4 were listed as 'Notify me' rather than 'Buy now', suggesting every unit of Google's highly anticipated mobile had already been sold.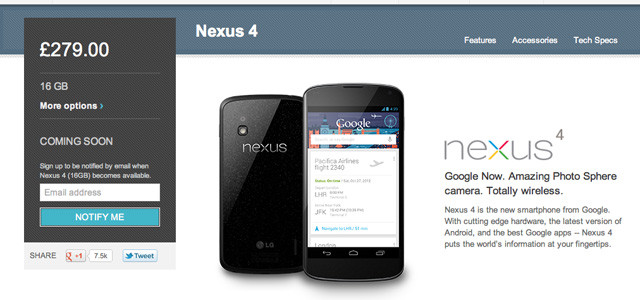 Of course, we have no idea how many handsets Google had put up for sale today. There's clearly a pattern emerging from tech launches these days: announce the launch date and, on the day, sit back and await the 'sold out immediately' headlines.
It's not beyond the bounds of possibility that the initial Nexus 4 UK allocation - or that of any other recently released device - was pegged to ensure it would be sold quickly. Good marketing strategy, no?
Whether you got an order in or not, the LG-made Nexus 4 packs a 4.7in, 1280 x 768 display and runs on the Qualcomm Snapdragon S4 chip with an Android 4.2 Jelly Bean build. It also has wireless charging and NFC capabilities.
We'll keep a look out for any sudden replenishment and keep you posted. If you did manage to reserve your Nexus 4 this morning, though, lucky you. Let us know how you got on in the comments below. ®
Similar topics