This article is more than 1 year old
Amazon Kindle Paperwhite review
Light reading
Kindle came first, of course, but is it the best ebook reader still? After all, there is a wide range of alternatives from multi-talented colour-screen machines like the Google Nexus 7, Kindle's own Fire and Fire HD models and now the iPad mini. Those are designed to offer greater versatility with apps galore. But they lack the clarity and restfulness of an e-ink screen.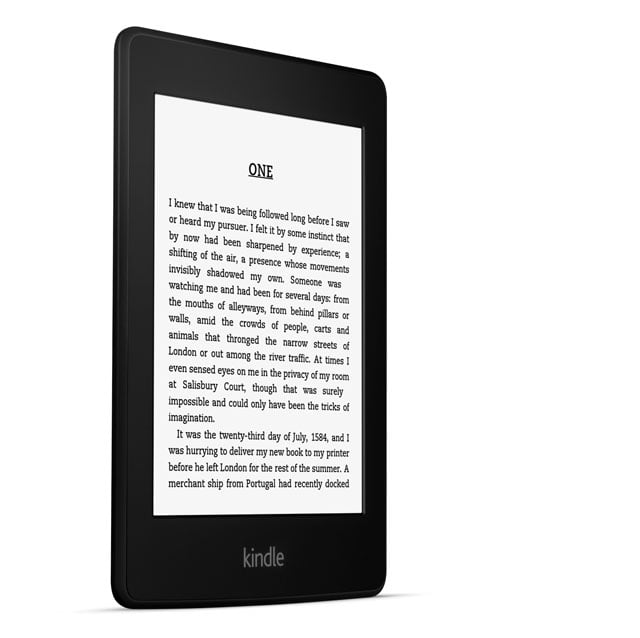 Bright idea: Amazon's Kindle Paperwhite
E-ink has the great advantage of not being backlit. Easier on the eyes and highly readable in bright sunlight even through sunglasses – great for beach holiday reading. But what do you do in dimmer light? Even here a backlit screen is inferior. And after all, it's not a criticism you'd make of a real book, is it? You'd just move to somewhere brighter, like when your Mum told you that you were reading in your own light and would strain your eyes, remember?
Earlier Kindles came with optional covers with lights built in. These at least pointed the light at the Kindle, not in your eyes. But the Paperwhite is a much neater solution. It's not backlit, but a strip of lights in the bottom edge of the gadget's 6in screen, sprays light across the page. It's not perfect – look carefully and you can see four distinct lights in the frame's edge.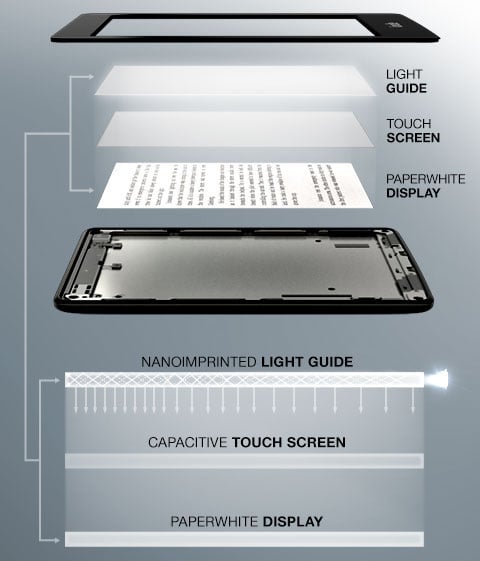 The concept looks good on paper
And at the bottom of the page this effect is noticeable – the last line of words and the space beneath have an uneven glow to them. But the rest of the page has a uniform illumination which is very attractive. Not only does it make reading in dark rooms a possibility, it means that the rest of the time, if you have the light switched on, the screen looks almost like white paper.
It's not that e-ink screens look grey, well, until you turn the light off. Then it looks grubby and uninviting. The light is easily adjustable: touch the top of the touchscreen to launch the menu, touch the light bulb image and tap wherever on the scale you fancy. The light adjusts accordingly. It must be said, this is a way more complicated way of doing things than on the Kobo Glo which has a button on the device's top edge.