In central London, there's a giant-sized superheroes, space 'n' science fiction shop. Among the pricey objects on offer – £479.99 for a replica Alien egg, for example, or £152.99 for a Star Wars dart board – there are action figures, t-shirts, books, DVDs and - even now - comics. On packed shelves of glossy colour mags, we have zombies, saucy vampires, tough guy violence, titillation and bad language alongside the incredible, world-shattering powers of costume'd hyperbeings.
Cool, a 12-year-old would think. But look around, of course, and the customers are exclusively adult.
A sense of standardisation seems to prevail, here. The comics have serious, over-dramatic and elaborate plotlines involving characters acting realistically, however fanciful the scenario. Artwork tends to cuteness or realism - incredibly wide manic grins signify psychotics, and for being really on-edge, try cig-smoking.
But how come everyone thinks that being self-consciously 'adult' makes this stuff better, when in fact it's better when it's aimed at kids, and the fully-grown enjoy it more that way too?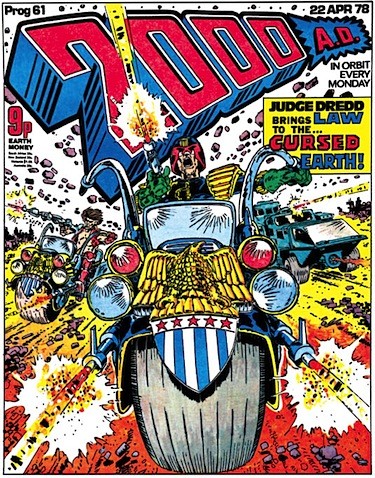 © Rebellion
There's one part of this shop that always satisfies: the British comic section, with its racks full of 2000 AD comics and beautifully bound books of reprints of the late 1970s and early 1980s classic British war comic Battle. Here are brisk, no-fat action stories with abundant imagination, wit and individuality. There's 2000 AD's Judge Dredd and Nemesis The Warlock; and Charley's War from Battle. There are also the quality second-billers - the time-travelling cowboys of Flesh, the blue-skinned elite infantryman Rogue Trooper and the JG Ballard-for-beginners Tharg's Future Shocks stories… Truly, this is sustenance for the weary soul. The 2000 AD comics, created for ten-year-olds and, later, teenagers, now has many, many more adult fans.
But could such comics be made now? Unlikely.
The entertainment is too raw, the action too violent, the humour too warped. Judge Dredd – whose film version back in September nailed the essence of the character superbly – had all these basic virtues in abundance in the early years of the 2000 AD strip. It had top-notch writers Pat Mills and John Wagner and artists including the mighty Mick McMahon, Brian Bolland and Ron Smith. These were stories were riven with satire as well as action – as well as JD's full-on instant-justice shtick unleashed upon Mega City One's hyper-obese insurrectionist fatties and ill-fated confectioner Uncle Ump's sweets-as-crack. Consider the legendary, un-reprintable 1978 issues, when Dredd finds himself in the midst of a war between Ronald McDonald and Burger King in the post-nuclear Cursed Earth.
What about the other famous 2000 AD strip, Nemesis The Warlock, the horned alien freedom fighter waging war on the crusading, future-medieval xenophobes of Termight, led by their superfascist Grand Master Torquemada - later proved to be an actual reincarnation of the original leader of the Spanish Inquisition? Drawn to flesh- and brain-crawlingly wondrous effect by the great Kevin O'Neill, and scripted by Mills, here was rich mulch for developing brains. Ideas like these seep into the mind's water table when you're young.
Something else that probably wouldn't last five minutes today is Battle's historically accurate and brutally frank First World War strip Charley's War. Also scripted by Mills, and awe-inspiringly illustrated by the late Joe Colquhoun, it's another classic that anyone who watches X-Factor should be forced to read.
Tracing the experiences of the teenage British soldier Charley Bourne as he survives through the Great War, it combines adventure with seriousness in ways are genuinely affecting, as when Charley's pal Ginger is blown up by a shell and he has to bury him. Has ever a villain been more genuinely hated than the sadistic toff Captain D'Arcy Snell for what he does to the heroic commoner Charley? These are how honourably subversive these black-and-white, five-pages-a-week series were - a wider discussion of the deadening consequence of the internet's endless choice is going to have to wait. Go to the Imperial War Museum's database of First World War servicemen, and there was actually a real Charley Bourne; comparing it to comics about sexy vampires or zombie attacks seems wrong, somehow.