Too cool for colour
Keep on going around the 2000 AD shelves and there's more proof of the wisdom of the Old Ways, with collections of the still-synapse-sparking visions of Jack Kirby, Jim Steranko and Steve Ditko from the 1960s.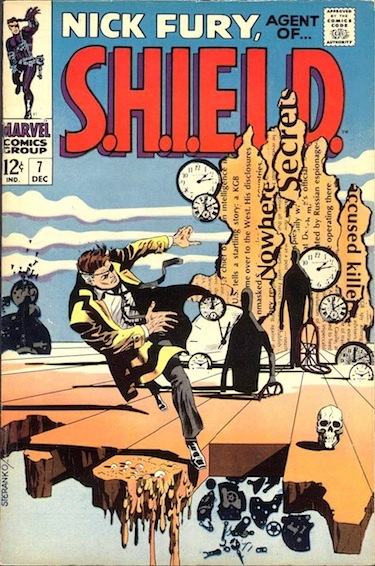 © Marvel Comics
The latter's run on Nick Fury Agent Of S.H.I.E.L.D was particularly great. Influenced by fine art and pop culture as much as Jack Kirby, these sumptuously drawn, action-packed espionage-psychodramas worked extraordinarily well in black-and-white, to the point that seeing them in colour, after being so used to the British reprints, seemed incorrect. The same can be said for any art by the shadowed minimalist Gene Colan, whose haunting work on Daredevil, Doctor Strange and The Tomb Of Dracula always looked better freed from the tyranny of four colours.
True, old editions of Spider-Man, the Fantastic Four or Nick Fury are largely uncomplicated knockabout, escapist fun that come crashing dynamically in through the window, rather than tousling their hair while having a difficult phone call, but isn't this largely the point?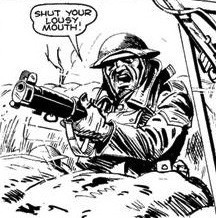 Charley's War
© Egmont
Maybe the source of the distemper is only another bookshelf away, with the hardbacks of the Alan Moore-scripted 1980s mindspasmers Watchmen and V For Vendetta - not forgetting the original work he was doing at the same time on the Swamp Thing and Marvelman for Warrior magazine. Moore is one of the great creative minds of comics, a genuine one-off, and these comics can be read repeatedly and never become stale. But did his revolutionary work make the simple business of a good story, illustrated well, seem unworthy?
Oldsters came in and ruined the fun
In the decades that followed, the market splintered and increasingly catered to 'mature' audiences. Which brings us to the new comics rack, and its zombies, gratuitous complexity and dutiful 'I've-got-a-tattoo' edginess. What is to be done?
To use a musical analogy, we need something like the garage rock revival or the rediscovery of how potent old blues can be. Think punk reacting against chart pop and prog, or the 'Back To Mono' badges Phil Spector and John Lennon used to wear. We want comics that prize directness instead of over-sophistication, getting the transporting essence across by the most economical means possible – Bo Diddley versus Yes, if you will.
Of course, not that griping about a minority interest from the pre-digital age really matters that much. For the interested party, there are acres of vintage comics yet to be mined, and being a parent with young kids certainly helps when getting reacquainted with Davy Law's anarchic Dennis The Menace strips; the genius of Leo Baxendale and Dudley D Watkins' work on The Broons and Oor Wullie; the sublime freakishness of American cartoonist Basil Wolverton; and more sequential non-conformists doing their own thing. It's also good to know that David Lloyd, the artistic talent behind V For Vendetta, launched the old-style but online British comic Aces Weekly in September.
There's one, even better, last thing to reflect on: Spider-Man co-creator Steve Ditko, now 86, is still doing new work through an independent publisher. Still recognisably himself, but freed from any formulas imposed from above, his newest comics are hand-drawn in black-and-white, and they're on actual paper. Stitch that, fallacious modernity. ®
The illustrations shown this article are under copyright. They are being used strictly to identify the comics being discussed and reviewed and cannot be used for commercial purposes without permission from the copyright-holders.