DataDirect Networks has updated its high-end WOS object storage system and says it's lower-cost than Amazon for petabyte-and-above deployments.
WOS, Web Object Scaler, v2.5, is intended for petabyte-class deployments and not for entry-level or mid-market object storage. The claim is that it enables private and public cloud deployments that are lower cost than Amazon's S3 cloud storage.
We covered the first and second versions of WOS, in 2009 and 2011 respectively, here and here.
Back in 2011, DDN's marketing veep Jeff Denworth said of the next, post v2.0 release: "We're expecting to quadruple this [performance] by the next release... with 32 million read IOPS and 8 million write IOPS, and support for 1 trillion objects as we ramp up the test and delivery harness."
V2.5, however, is a point release a year after v2.0 and we are yet to see the massively more scalable version delivered that will support 32 million read IOPS, 8 million write IOPS, and support for 1 trillion objects. We guess that will likely be a v3.0 release, possibly in 2013.
For now, v2.5 provides:
A single namespace across 64 sites
Support for 250 billion objects with geo-replication
NFS and CIFS access to improve enterprise applicability
Failsafe, self-healing design based on erasure coding
Access from Android and IOS devices
10Gbit/s Ethernet support - Maximum object size up from 500GB to 5TB
DDN makes the traditional object storage supplier claim that traditional file systems can't scale because they have too much overhead, RAID protection and management complexity, but unlike other object storage suppliers, backs this up with large scale deployments involving the potential for trillions of objects and exabytes of capacity. It also says that is for more than archival data storage use cases.
DDN provided some anonymised customer details, saying one customer was a very large US cable company building a video-on-demand infrastructure that will scale to 100s of petabytes. The US Department of Defense has a WOS cloud to store geo-spatial data for different parts of the DoD involving classified research, the company says.
Denworth said: "We haven't heard of any [object storage] projects larger than the ones we're working on. The deals are very, very big. When you get into the right discussion, customers don't blink an eye at 100PB."
'Cheaper than S3'
At this level, pure disk storage costs are huge. DDN makes the blanket claim that customers can save $3.4m over five years when storing a petabyte of data compared to using Amazon's S3 service. The thinking is that once you buy enough disk capacity, then Amazon's profit margin becomes a significant factor and buying disk storage from DDN at PB-plus levels is cheaper than renting, as it were, storage in Amazon's vaults.
DDN provided some overview spreadsheets and charts to back this up, at the 5PB and 10PB levels showing even greater savings. Here's the 5PB chart: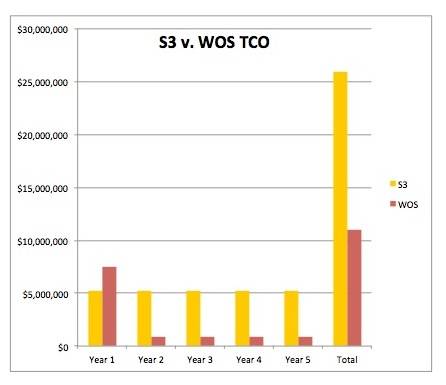 5PB DDN WOS vs Amazon S3 over 5 years
And at 10PB: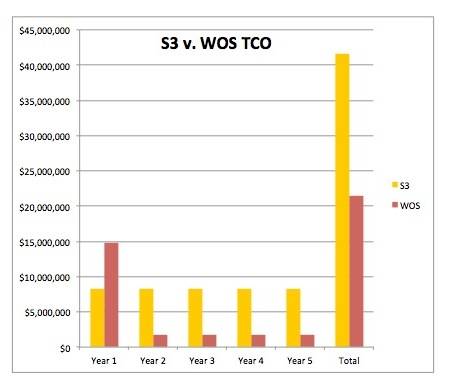 DDN 10PB WOS vs Amazon S3
GridScaler and ExaScaler
Separately DDN has announced enhancements to its GridScaler and ExaScaler parallel file system products.
EXAScaler uses the Lustre open source file system while GRIDScaler is IBM GPFS-based. Both get:
DirectMon single-pane-of-glass GUI–based systems management
Support for DDN's high-end SFA12K and SFA7700 mid-range hybrid Flash storage appliance
SFX flash caching technology
Cloud Tiering with WOS Cloud Storage and HSM tools
NAS access via NFS or SMB/CIFS to enable enterprise applications to access a scale-out storage namespace.
DDN says application areas for the EXAScaler and GRIDScaler products include Big Data analytics, bioinformatics, energy exploration, government and academic research, web-scale computing, animation, financial modeling, manufacturing design and government intelligence.
Jean-Luc Chatelain, DDN's executive veep of strategy and technology, indicated DDN is taking on EMC Isilon and NetApp ONTAP clusters: "With the … enhancements to our GRIDScaler and EXAScaler family … DDN has evolved parallel file storage from being an application point-solution to an enterprise-class, easy-to-manage Big Data appliance for the capture, storage, processing and global distribution of massive data."
Just as EMC aims to outflank NetApp with its scale-out Isilon filer offering greater scalability and performance, so DDN aims to outflank Isilon as well as NetApp, offering greater performance and scalability, gambling that its HPC heritage and technology will blow Isilon and NetApp out of the water when Big Data gets really, really big. ®
Similar topics