Facebook has developed an application aimed at matching its users with available jobs as part of an initiative with the US government dubbed the Social Jobs Partnership (SJP).
"Nearly a year ago, the US Department of Labor joined the Social Jobs Partnership to explore better ways to connect people with job information through social media," said US Secretary of Labor Hilda Solis in a statement.
"Today, we're taking an important next step with the announcement of this valuable new application. Through the expertise of our partners and the foundation of an industry-supported open source job posting schema, the Social Jobs Partnership is helping get America back to work."
So far over 1.7 million jobs are up on the board, grouped under five different sets of listings from BranchOut, DirectEmployers Association, Work4Labs, Jobvite, and Monster.com. There are the usual job categories to choose from (and a welcome tab for veteran-friendly employers) although a quick check reveals there are still a few problems to iron out.
For example, a quick search of vacancies in database IT within 20 miles of downtown San Francisco brings up job listings in San Antonio, Texas and Northern Island's Belfast. Searching for security jobs in the IT industry within the same geographical area presents opportunities for armed security guards in Dunwoody, Georgia.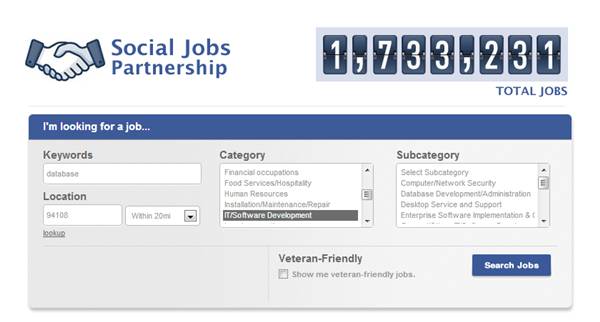 A year of development and some disappointing results
"Facebook is all about connecting people and we're thrilled to see developers leveraging our platform to connect job seekers and prospective employers," said Marne Levine, Facebook's VP for Global Public Policy.
"By allowing job seekers to view and share job openings based on personalized criteria, like location and industry, the Social Jobs Application builds on our broader effort to help people use social media to find jobs in the US," Levine said.
It looks like Facebook isn't trying to take over the tedious business of soliciting, compiling, and listing jobs; it just wants to be the conduit of that for now. But LinkedIn must be looking at this and feeling more than a little uncomfortable. ®