This article is more than 1 year old
Wozniak to star in crazed iOS action game, rescuing missus 'J-Woz'
Attempt to get intellectuals to watch action movies?
The wild-haired genius behind the Apple II is to star in a iOS game, "Woz with a Coz" - understood to be the first iOS game ever to feature Steve Wozniak, the engineer and Apple co-founder.
For no discernible reason the game features the computer engineer rampaging through a fictional city with Hollywood hard man Danny Trejo, on the premise that someone bad has kidnapped Woz's wife Janet, called J-Woz in the game.
We understand that the "Woz with a Coz" iOS game, due out 22 November, is some kind of promotional stunt for a film called Vengeance starring Danny Trejo which will be out in 2013.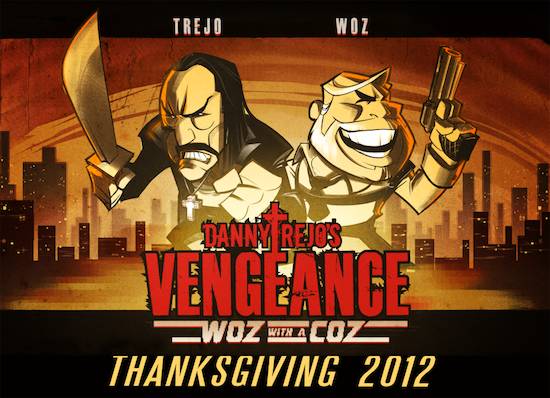 Danny Trejo and Woz in an iOS game. We don't know why either
Film industry rag Deadline Hollywood says that production company ITN are pulling out all the stops to promote the 2013 film and have released the tie-in with Wozniak as part of a marketing blitz for the action film.
The Facebook page for the game says that is based on a true story (none we've ever heard about) and poses the question:
"Will Woz learn to speak Spanish?"
Woz seems to have confirmed the unlikely tie-up by posting a link about it on his personal site, but as we still have absolutely no idea why he is involved with it.
We asked the great man for a better explanation, but have received no response.
The game is due on Thanksgiving, November 22. ®