This article is more than 1 year old
Two scam apps stink up iTunes store, pulled thanks to Reg reader
Eye of the Vulture backs up porous Cupertino iron curtain
Apple allowed two scam apps to appear in its App Store - and the dodgy software remained on sale for five days until a Reg reader raised the alarm.
The two paid-for programs, built by developer JB Solutions, do not work as advertised in the online shop, sparking a surge in negative feedback comments left by ripped-off fanbois. Both apps were approved by Apple's censors and went live in the software store on 8 November. They were eventually pulled last night after we contacted the fruity firm.
The first app, IntelliScreenX for iPad and iPhone, cost $1.99 (£0.99) and promised a pull-down list of notifications from the device's lock screen. Such a feature is not possible on iOS, although it can be done on jail-broken iPhones.
Users reported that, once downloaded, IntelliScreenX simply showed an alarm clock. The app looked nothing like the screen grabs displayed in the iTunes store front.
The second dodgy program, NFC for iPhone 5, cost $0.99 (£0.69) and promised to enable Near-Field Communications support - useful for making wireless payments - in the smartmobe. Again, that's impossible because the iPhone does not have an NFC chip fitted. As soon as the software is downloaded it changes its name to RadioStreamer and plays music from online stations.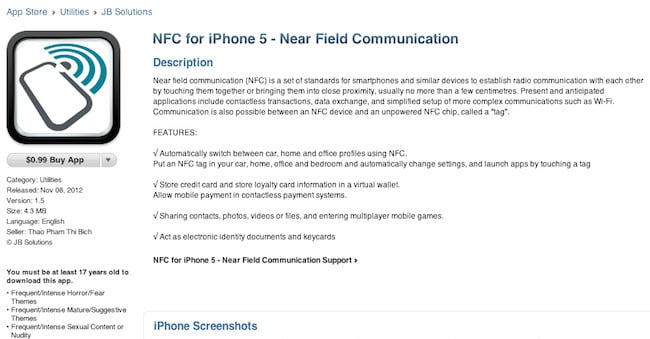 Screen grab of the scam app NFC for iPhone 5 advertised in Apple's iTunes
It's not clear whether the phony apps pose a security risk, but it is clear users ended up paying out for software completely unlike what was expected.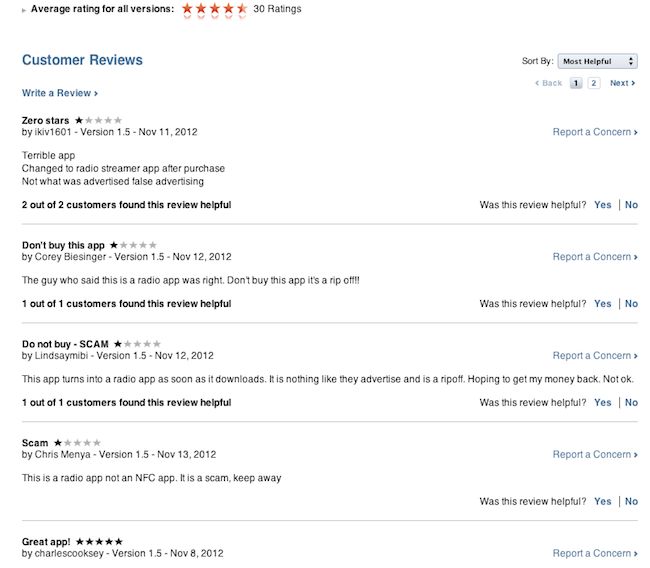 Unhappy customers
Oddly enough, there were 20 to 30 positive recommendations and five-star reviews for the apps, no doubt snagging a number of customers, although a lot of negative comments have since appeared.
The Reg asked Apple how something so wrongly advertised could be stocked on the App Store's shelves given the Cupertino giant screens every product submitted by developers. A spokesman would not provide any detail, but told us: "Thanks for bringing this to our attention." ®