New York Times uses palpably fake pic to illustrate Syrian warfare
Strong smell of First Person Shooter
The New York Times has used an obviously faked image with a strong resemblance to videogame visuals to illustrate the conflict in Syria, an eagle eyed Reg reader has pointed out.
The story 'Ordering More Airstrikes, Syria Calls French Recognition of Rebels 'Immoral' ' carries a picture of a fighter holding a gun and firing around a corner as tyres burn outside a building.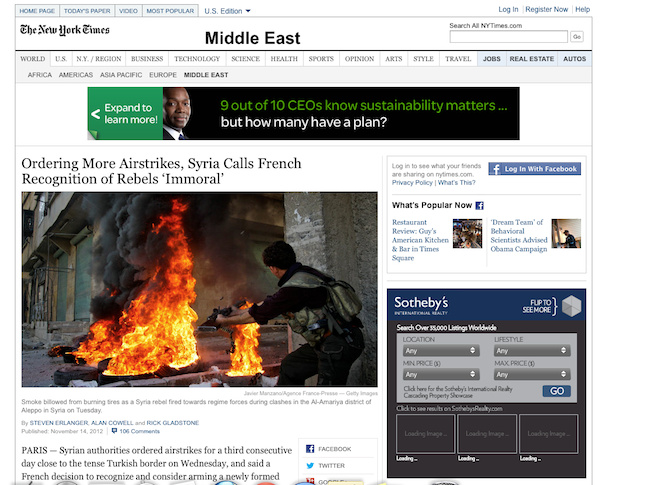 Oh dear
The image is attributed to photographer Javier Manzano of Agence France-Press via Getty Images and captioned:
"Smoke billowed from burning tires as a Syria rebel fired towards regime forces during clashes in the Al-Amariya district of Aleppo in Syria on Tuesday".
But the image looks a lot more Black Ops II than Aleppo, specifically the extra graphic detailing on the flame and the colour balance of the rebel's arm and body compared to the burning tyres. Also the tyres appear to have been filled with petrol or some similar accelerant prior to catching fire - and this is even more implausibly not leaking out to create pools of flame.
Perhaps most damningly of all, the "rebel" seems to be firing some kind of belt-fed light machine gun or squad-automatic weapon at right angles to his fully extended arms without losing control of it.
Dear oh dear. Perhaps our gamer readers can identify the cutscene or combat from which the image comes.
Look more closely here. Shome mishtake surely? ®