Mobile phone sales slump bites Nokia
Finnish firm ahead of Apple but trailing Samsung
Nokia may have plunged down the chart of best-selling smartphone makers, but at least it can console itself with the knowledge that it's still up toward the top of the broader mobile phone supplier table.
'Toward the top' but not 'at the top', of course. According to market watcher Gartner, Nokia is merely the world's second most successful phone seller, at least during the three months to the end of September, behind Samsung. Apple, which only makes smartphones, is in third place.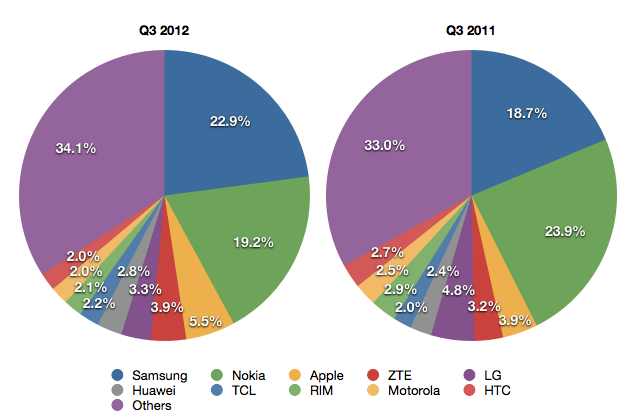 Data source: Gartner
Apples's market share, then, is dwarfed by Nokia's, let alone Samsung's. The Cupertino company took 5.5 per cent of the mobile phone market, up from 3.2 per cent in Q3 2011. Samsung took 22.9 per cent of the market - up from 18.7 per cent - while Nokia's share fell year on year from 23.9 per cent to 19.2 per cent - on the back of a 21.9 per cent decline in unit shipments.
Other winners and losers? ZTE and Huawei both made small market share gains, to 3.9 per cent and 2.8 per cent, respectively. But LG, RIM, Motorola and HTC all slid, to 3.3 per cent, 2.1 per cent, 2.0 per cent and 2.0 per cent respectively.
Overall, shipments were down 3.1 per cent to 428 million units, a further decline after two past quarters' worth of falls, though demand was up, Gartner said. Smartphone sales accounted for 39.6 per cent of total mobile phone sales, driven by a 46.9 per cent increase in shipments year on year. ®