This article is more than 1 year old
Flash outfit: You bring the cloud, we'll bring the puffening
Mmm, delicious flaky multi-app puffs
Flash array start-up SolidFire is going full tilt into the cloud, punting its arrays as multi-app performance engines offering less than $4/GB costs.
We first wrote about SolidFire here. It says its SF3010 and SF6010 arrays can be clustered using 10Gbit/s Ethernet in 100-node setups offering more than 2PB of capacity and 5 million IOPS, with applications allocated to quality of service performance tiers. That would be a honking great flash storage infrastructure indeed, and yet SolidFire has three cloud service providers (CSPs) happily climbing aboard its flash train:
ViaWest, whose CTO, Jason Carolan, says: "By adding the SolidFire storage system, we will provide a whole new set of IT services predicated on performance guarantees and industry-leading SLAs."
Databarracks, which said it supports the back-up of over 10PB of data for thousands of customers in the UK and globally.
CloudSigma, which uses SolidFire as its default storage medium.
Calligo, the 'Channel Islands' only dedicated Cloud Computing specialist'.
SolidFire is also talking to more than 20 other CSPs about their possible use of its flash boxes.
It makes the case that these CSPs can offer performance SLAs by using scale-out SolidFire flash arrays instead of traditional disk drive arrays or flash-enhanced disk drive arrays. It says cloud computing is evolving to supporting performance-sensitive and business-critical applications, such as Oracle, SAP, and NoSQL databases and also Hadoop-using ones.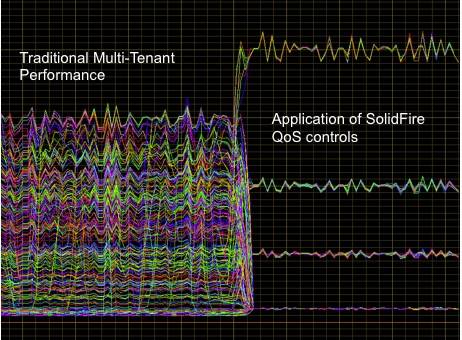 Effect of SolidFire QOS controls
SolidFire founder and CEO Dave Wright, an ex-Rackspace guy, says: "Cloud providers worldwide are now able to deploy a scalable storage system that delivers guaranteed performance below the cost of disk, and confidently host their customers' high-performance applications."
SolidFire marketing has provided a performance comparison chart: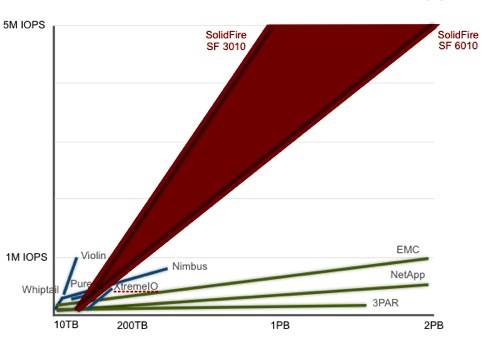 SolidFire marketing - performance comparisons
We expect Violin and others would say you can scale their systems in the same way to reach 5 million IOPS and beyond, but SolidFire would point to its app performance tiering and smile sweetly.
By offering a claim of guaranteed performance below the cost of disk for CSPs, SolidFire has a clear market positioning and that's a good move for any start-up. It sells direct and its arrays are now generally available. ®