Microsoft aims Windows Embedded 8 at $1.4 trillion market
Six flavors to arrive in early 2013
---
With the much-ballyhooed launches of Windows 8 and Windows Phone 8 behind it, Microsoft has now announced its product road map for the less consumer-centric version of its OS platform: Windows Embedded.
Targeting the so-called Internet of Things, Windows Embedded 8 will come packaged in a variety of flavors to suit the full range of intelligent devices, including point-of-sale (POS) systems, medical devices, handheld equipment, in-car systems, and industrial sensors, among others.
In a press release, Microsoft said that the forthcoming releases signaled a "big transition" for Redmond, one that would see it morph from a software company to a "devices and services" company.
The first versions of Windows Embedded 8 aren't due to reach general availability until March 2013, but Redmond added spice to its road map announcement by making a Release Preview of Windows Embedded 8 Standard available for download on Tuesday.
Like previous Windows Embedded releases, Windows Embedded 8 Standard is a modularized version of Windows that allows device makers to strip out the parts of the OS they don't need, and reduce it to the smallest footprint possible.
With the new version, the platform will gain many of the features of mainstream Windows 8 – in particular, its focus on touch-centric interfaces that can be controlled using gestures.
When it ships in March, the Standard version of the platform will be joined by Windows Embedded 8 Pro – taking the place of the earlier Windows Embedded Enterprise – which will essentially be a full version of desktop Windows 8 packaged for embedded systems.
Other versions of the OS will ship later in the year. First will be Windows Embedded 8 Industry, which will replace Windows Embedded POSReady and will target a range of industry-specific silos, such as manufacturing and healthcare, in addition to POS systems. Next will come Windows Embedded 8 Handheld and Windows 8 Embedded Automotive, aimed at the handheld device and in-car systems markets, respectively.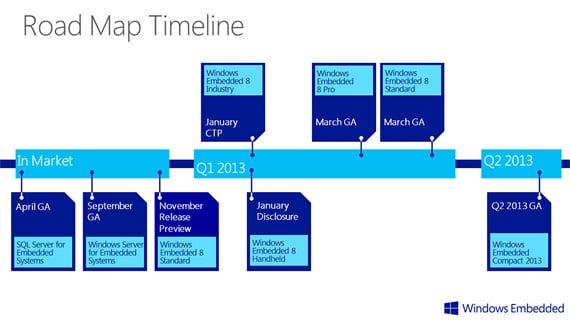 Versions of Windows Embedded for devices will roll out through early 2013
Microsoft has shared few details about the features of these more industry-specific bundlings of the OS, let alone when they will ship, although it has said it plans to make a Community Technology Preview of Windows Embedded 8 Industry available in January.
Finally, rounding out Redmond's embedded systems will be Windows Embedded Compact 2013 – no "8" this time, oddly enough – an ultra-lightweight version of the OS designed for very small footprint devices, due to ship in the second quarter of 2013.
At the annual Build developer conference in October, Microsoft's Brandon Bray explained that Windows Embedded Compact would be the new home of the .Net Compact Framework, now that Windows Phone 8 has transitioned to using the more fully featured Core CLR.
"There are a lot of devices that still want to use less than 256MB of memory and there's quite a market for those across various industries," Bray said, citing sensor devices for factory automation as one example.
In addition, Bray said all of the new flavors of Windows Embedded would include support for Visual Studio 2012, allowing developers to use a single suite of tools to build apps for the full range of Microsoft platforms for the first time.
It's little wonder that Redmond is turning its attention to the device market. In its press release, Microsoft cited a study from analyst firm IDC that forecast the market for intelligent systems to exceed $1.4tn by 2016.
That's a huge potential opportunity for platform vendors – one that certainly hasn't been lost on Oracle, which announced new versions of its Java platform for embedded systems in September. With the new versions of Windows Embedded, Microsoft is hoping that its mature Windows technology coupled with its new emphasis on touch-centric UIs will allow it to outflank its rivals and grab a bigger piece of the embedded-device pie.
Or, as Windows Embedded general manager Kevin Dallas put it, "Between the range of experience, talent and technology that we have in play, I'm convinced that Microsoft and its community of partners are uniquely qualified to take the lead." ®