Google's Data Arts team has released a new, experimental app for its Chrome web browser that offers users an interactive tour of our local stellar space.
Dubbed "100,000 Stars", the app draws on scientific data to plot the true positions of thousands of nearby stars, allowing users to zoom, pan, and pivot amongst the heavens to the tune of a blissed-out, ethereal soundtrack.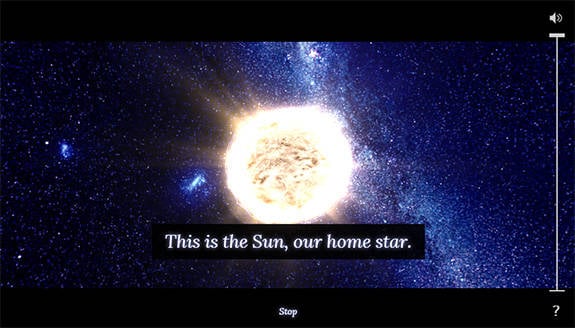 Your interstellar journey begins, naturally, at your own front door
The app is the latest in the Chocolate Factory's series of Chrome Experiments, each of which is designed to test the limits of modern browsers by offering complex demos of the latest web standards–based technologies.
In the case of 100,000 Stars, the app is built using a combination of CSS3D, Web Audio, and WebGL – which means that while it hums right along in Chrome, it limps in the latest Firefox and it won't launch at all in Internet Explorer (including IE10) or Safari.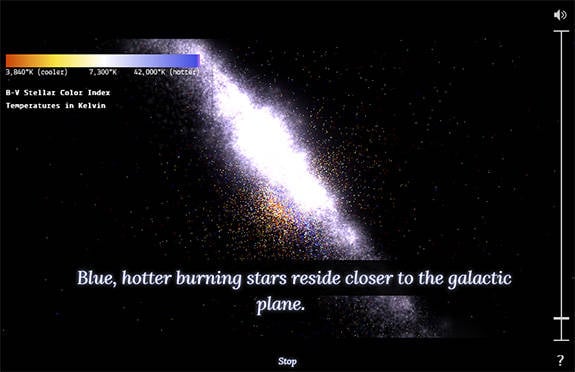 Farther out, the scope of known space really comes into perspective
The virtual interstellar safari opens with an optional guided tour, beginning with our own Sun and gradually zooming out to reveal more of the stellar neighborhood.
Along the way, the app offers visualizations of various relevant facts, such as the length of a light year, the distance of Voyager 1 from Earth, and the relative temperatures of stars in different parts of the galaxy.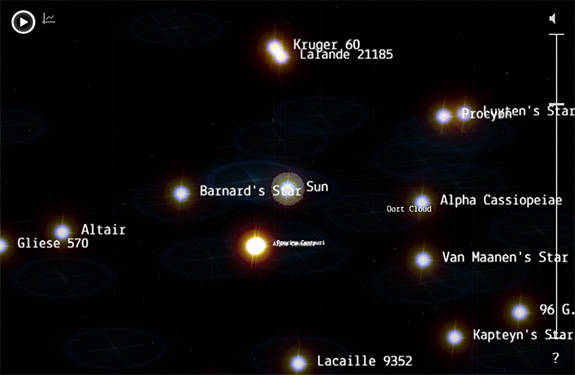 A screenshot of the app showing named stars
The app displays the names and actual positions of local stars that scientists have studied
Users are free to explore on their own from there, clicking and dragging with their mice to zoom and rotate the stellar model. The controls take a little figuring out, but the experience is well worth it, particularly if you've ever wondered just how mind-bogglingly vast the known universe really is in comparison to our own little corner of it.
Just remember to bring your towel. ®
Similar topics