HP forges hyperscale ProLiants aimed at big data
Reworked iron for Hadoop – and OpenStack, Exchange and Vertica, too
---
Big data doesn't fit in normal servers, and so HP's engineers have gone back to the whiteboards and designed a new line of hyperscale machines called the ProLiant SL4500s.
Google designed its own servers not just because it has some serious motorheads in charge, but because the boxes available from the tier one server makers did not meet its needs. Dell took the idea of bespoke servers commercial with its Data Center Solutions unit, and Hewlett-Packard has done a pretty good job of keeping pace with its own semi-custom machines, the SL6000 and then SL6500 tray servers.
The initial SL6000 "scalable system" servers, were announced in June 2009, and the follow-on SL6500s, debuted in October 2010 and featured prominently in the Tsubame 2 CPU-GPU hybrid supercomputer at the Tokyo Institute of Technology.
While the SL6500s allow customers to add multiple server nodes and up to three GPU coprocessors per node into a chassis with 2U of rack height or eight-GPU coprocessors per node in a 4U node, these machines are not well suited to workloads like Hadoop or object storage clusters where the data is stored on the compute engine. You just can't cram enough disks into these boxes.
It is a tricky business matching hardware designs to software needs, says Jim Ganthier, vice president of marketing for HP's Industry Standard Servers and Software division within its Enterprise Group. "As soon as we have a perfect configuration, someone will come along and ask for something different."
And so, with the SL4500s, HP decided to make the design a little more flexible than the SL6500s, providing different ratios of compute and storage to meet the requirements of a number of different, but similarly storage intense, workloads.
The SL4500s, which are code-named "Argos" after the ancient Greek city, were designed from the ground up to cram lots of cheap storage into trays and link them to Xeon and Opteron server nodes using the processors that yield the best performance per watt and performance per dollar - because these big data and cloud jobs are generally storage bound, not compute bound. And their operators are usually cheapskates, too, that want the cheapest processors and disks.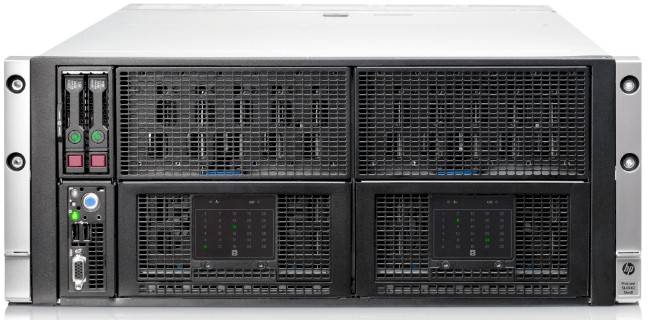 The new HP SL4500 big data server
Density matters to big data shops, so the SL4500 chassis breaks the cardinal rule of rack servers by having a non-standard rack chassis height of 4.3U, which is 7.5 inches high. This is done to accommodate server nodes and 3.5-inch SATA drives, which slide into the two or three trays that slide into the Argos chassis, depending on the model. 4U was not quite tall enough and 5U would have left too much space.
Over a rack, that extra seven-tenths of a rack unit ends up being enough to slide a whole extra chassis into the rack, so with the SL4500 chassis, you can get nine enclosures in the rack and still have a little more than 3U left over for a few top-of-rack switches.
If HP had gone with a 5U chassis, it would have had room for eight enclosures and then 2U left over for switches. That extra 12.5 per cent of compute and storage density matters in very competitive situations where Dell, Super Micro, and others are squeezing as much gear as possible into a 42U rack.
The SL4500 chassis can be configured with two different server nodes. The first is the SL4540 Gen8, which is a two-socket box based on Intel's Xeon E5-2400 processors. These are the lower-end versions of the E5s that came out in May, sporting only one QuickPath Interconnect (QPI) port between the two sockets, one fewer memory channel per slot at three, and only 24 lanes of PCI Express 3.0 bandwidth compared to 40 for the E5-2600.
The E5-2400s also have significantly lower prices and, for grunting jobs that are not compute or memory intensive, better bang for the buck. HP is supporting variants with 4, 6, or 8 cores and, based on its spec sheet, seems to prefer the six-core E5-2440, which clocks at 2.4GHz.
The second server node that slips in the Argos chassis is the SL4545 Gen7, which is a two-socket server based on AMD's Opteron 4200 entry processor, which debuted a year ago this week for machines with one or two sockets and aimed at the same "value-optimized" machines as the E3-1200 v2 and E5-2400 from Intel. HP is supporting the six-core and eight-core variants of the Opteron 4200, and is defaulting to the six-core Opteron 4238 running at 3.3GHz.
In either case, the SL4540 Gen8 and SL4545 G7 machines have a dozen memory slots and support up to 192GB of main memory using 16GB DDR3 memory sticks. The nodes have two hot-swap 2.5-inch SATA bays allocated to them for running local operating systems and scratch files, and customers can use either disk or flash drives in these slots.
The server nodes have one PCI-Express expansion slot, an integrated Smart Array B120i RAID disk controller, and either a two-port Gigabit Ethernet or single-port 10 Gigabit Ethernet controller, depending on the model. The chassis has five dual-fan modules for cooling and room for four power supplies ranging from 750 to 1,200 watts each.
The nodes support 2TB SATA drives today in the trays, and in the first quarter of 2013, they will support 4TB SATA drives. At that point, HP will be able to cram 240TB per chassis in a storage-heavy SL4500 configuration, which works out to 2.16PB in a single rack. Just try picking that rack up.

Three different configurations of the SL4500 target three different workloads
To accommodate different workloads, the SL4500 has variant server and storage configurations. If you are setting up an object storage cloud using OpenStack or CloudStack, HP thinks you should go with a single node and 60 2TB SATA drives attached to it in the chassis. If you are looking a super-dense Microsoft Exchange email servers, then get two nodes, each with 25 2TB storage drives.
For Hadoop, where you are generally trying to get a single drive for each core in the system to balance out I/O and compute, HP suggests a three-node configuration that has 15 drives per node. It is a pity that Intel doesn't have a 15-core processor or HP could not find a way to get 16 drives into this baby. You could, in a pinch, allocate one of those smaller SATA drives to one of the cores. Or you can go with a six-core Xeon or Opteron and buy three fewer drives or store spares in the bays.
And by the way, Ganthier says that the SL4500s are also perfect for HP's own Vertica column-oriented distributed database and early access customers are looking to deploy it on the SL4500s.
So how does the SL4500 stack up to rack servers? If you wanted to build a big data setup for Hadoop data munching with 5PB of capacity, you would need servers and disk enclosure expansion bays, and this would cost you somewhere around $3m, according to Ganthier. If you look closely at the chart below, you can see those are Dell PowerEdge server images on the left, but it applies equally well to any two-socket x86 server, including HP's own ProLiant DL series.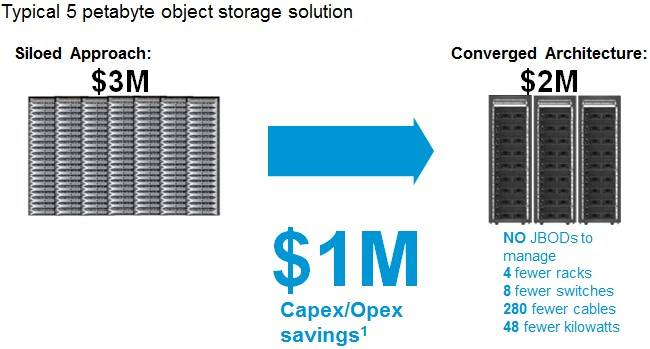 The SL4500s can save big data customers big bucks, says HP
This particular rack setup consists of 28 Dell PowerEdge R510 rack servers, with 112 PowerVault MD1200 enclosures, fourteen switches, and 448 cables. These seven racks burn 78 kilowatts of power.
By shifting to the tray servers with integrated and dense-packed storage, the SL4500s can do the same job in three racks instead of seven, and the whole shebang will cost $1m less. You need eight fewer switches, 280 fewer cables, and don't have to mess around with JBOD arrays.
Equally importantly, HP's design can pull out somewhere around 600 watts per server, and when you add it up, you can have the same amount of compute and storage capacity as those seven racks of pizza box servers but burn only 31 kilowatts of juice.
Having previewed the Argos machines to a number of shops, Ganthier says that HP had to stagger the rollout a bit. "Customer demand is our biggest problem right now, and we can't make them fast enough," Ganthier tells El Reg. "And the reason is that the SL4500s are applicable to a hell of a lot more than big data."
The SL4500 in the 1 node by 60 data drive configuration is available now. The two-node configuration with 25 data drives per node will be available by the end of December, while the three-node setup with 15 data drives per node will come out after the holiday season.
A single-node SL4500 configuration has a base list price of $7,643. It seems unlikely that this includes the cost of disks, reasonable memory on the node, and peripheral cards you might need. ®